White Chocolate Matcha Cream with Gluten-Free Almond Shortbread
We whisk you a Merry Christmas! This holiday season, we're always trying to "bake" the world a better place, one cookie at a time. These White Chocolate Matcha Cream Almond Shortbreads are the perfect sweet treats to surprise your friends and family with. Incorporated Suncore Foods® Midori Jade Matcha Powder to create that gorgeous green glow and matcha-flavored undertones! From our Suncore Foods® Family to yours, wishing you a very Merry Christmas, happy holidays, and warmth memories to make and hold dear for years to come!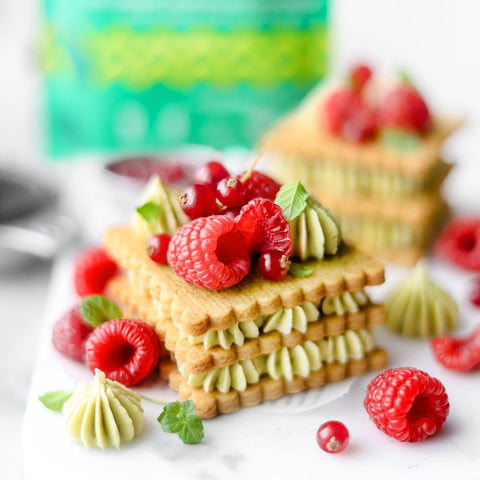 Ingredients
GF Almond Shortbread:
3/4 cup almond flour
1/2 cup gluten free flour
1/4 cup coconut oil
2 tbsp maple syrup
1/4 tsp salt
White Chocolate Matcha Cream:
250g dairy free white chocolate
1 cup + 1 tbsp coconut milk, chilled
2 tsp Suncore Foods® Midori Jade Matcha Powder
Directions
1. In a small bowl combine shortbread ingredients. Mix until the mixture starts to form a dough. If it doesn't seem to come together, add a teaspoon or two of coconut oil and process again. Wrap dough with plastic wrap and chill for 10 mins.
2. Preheat oven to 170c. Prepare a baking tray with parchment paper. Roll dough out chilled dough onto a piece of parchment paper to about 1/4-inch thickness and cut out the dough using a cookie cutter. Bake for 12-15 mins until golden brown at the edges. Allow to cool completely.
3. To make the cream; Scrape out the thickened cream from the can coconut milk and leave the liquid behind. Melt chocolate with coconut milk until the chocolate is completely melted, stirring constantly. Cool to room temperature then refrigerate overnight.
4. Once the white chocolate ganache is chilled (it will be soft and not solid like regular chocolate ganache), use the whisk attachment and whip with an electric mixer on low speed and gradually working up to high speed until the ganache is light and fluffy. Add Suncore Foods® Midori Jade matcha Powder and 1 tbsp of coconut milk then whip on low speed working your way up to medium-high speed until soft peaks form and the cream holds it's shape on the whisk.
5. Assemble – Place one piece of cookie on a serving platter Pipe even dollops of cream on top of the cookie. Top with the other cookie and pipe again with cream. Decorate with fresh berries & serve.
---