Mango Flower Passion Fruit Tartlets
The best highlight of the holidays is definitely these gorgeous vegan, gluten-free, and refined sugar free Mango Flower Passion Fruit Tartlets, a crowd-pleaser that surely satisfies sweet tooth and loved by all your friends and family! Juiciest mangos with wonderfully light creamy filling and delicious crispy crust, the perfect touch of elegance – tarts are the way to go! Garnished with Suncore Foods®️ Sparkly Amber Passion Fruit Flakes, it will light up your holiday spirit. Let these little tarts glow!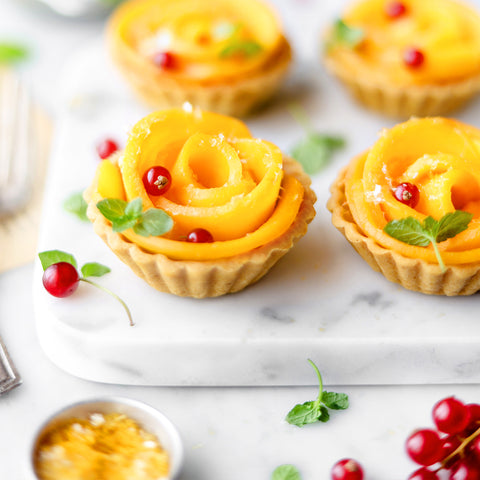 Directions
1. Preheat your oven to 180 celsius. Grease a tart tins. Set aside.
 In a small bowl, combine all crust ingredients, mix until well combined. You should get a moist mixture than can be easily moulded. Firmly press into bottom and up the sides of tart tin. Bake for 15 mins. Transfer to a wire rack and let cool.
2. Filling. Slice each passion fruit in half and scoop the pulp into a blender. Pulse the blender to separate the seeds from their gelatinous membrane. Rest a fine mesh sieve over a small bowl and pour the Suncore Foods® Sparkly Amber Passion Fruit Flakes into the sieve. Use the back of a spoon to press out the juice.
3. In a saucepan combine the mango purée, coconut milk, passion fruit, bring up to a boil. Add in cornstarch and agar-agar powder. Whisk constantly until agar completely dissolved. Then add in maple syrup, whisking constantly. Allow to boil for approximately 30 seconds.
4. Remove from heat. Fill cooled tart shells with the mango passion fruit cream, about 1-2 tbsp. Place in the fridge to set. Garnish with fresh mango, red currants and Suncore Foods® Sparkly Amber Passion Fruit Flakes. Enjoy! 
---