Watermelon Chiffon Roll Cake
Roll into a brand new day joyfully with this sweet and lovely Watermelon Chiffon Roll Cake! This cake is pillow-soft, light as air, and deliciously irresistible. Go the extra mile and make it fun by turning it into a cute watermelon roll with Suncore Foods® Aqua Blue Spirulina, Midori Jade Matcha, Red Beet, Rudy Red Radish, and Yellow Goldenberry Powders to achieve these bright and vibrant watermelon red and green colors. Life is too short to say no to cake. Don't you want a slice of light and fluffy watermelon? Baked just right!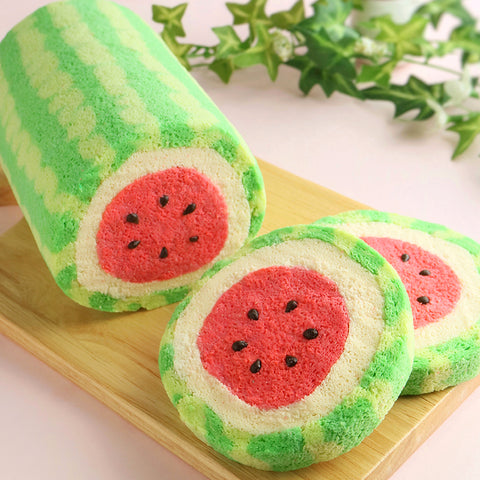 Directions
1. Whisk egg yolks with sugar, followed by oil, milk and vanilla. Add in sifted cake flour and whisk till well combined. Divide the batter equally into 3 for green, red and plain. Add in supercolor powders above and mix till desired colors. Further divide the green batter into 2 and add a 1/8 tsp blue powder for darker green.
2. In another mixing bowl, whisk egg whites with sugar till firm peaks. Divide the meringue similar to above. Fold in the meringue to the above batters till well incorporated.
3. Pipe alternating green and dark green lines in a quarter sheet pan and lightly use a bamboo stick to drag the dark green lines (watermelon marbling effect). Bake at 160 C for 16 mins. Pour red batter into 4 round cupcake liners, sprinkling black sesame seeds at the same time, and bake at 160 C for 25+ mins. Pour the plain batter into another quarter sheet pan and bake for 16 mins.
4. Assembly: Stack the the plain sheet cake on top of the green watermelon sheet cake, applying marshmallow glue in between. Place the red cupcakes in a row on the white sheet cake with more glue. Roll up and chill. Slice to enjoy the cute watermelon slices! Decorate with more seeds if desired. Enjoy!
---