Unicorn Ganache Macarons
Life is like macarons, it's always full of color! Add a little bit of rainbow and glitter to your dessert with these deliciously ADORABLE Unicorn Pastel Macarons! These whimsical little treats will make your table pop! Suncore Foods® Aqua Blue Spirulina Powder adds a calm relaxing baby blue to the meringue cookie and Suncore Foods® Ebony Carrot, Ruby Red Radish, and Yellow Goldenberry Powders create wonderful pastel purple and yellow hues in a creamy swirling ganache. Be like a macaron, it's crunchy & crisp on the outside, creamy & sweet on the inside! Happy weekend & treat yourself to something sweet!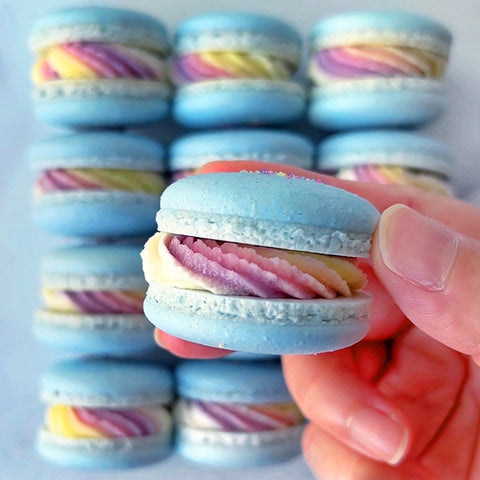 Directions
1. Using a sieve, sift the almond flour and powdered sugar twice. Be sure to discard any big lumps or debris. Add in 1/2 tsp Suncore Foods® Aqua Blue Spirulina Powder or desired Suncore Foods® Powder for coloring, and mix.
2. Using the double boiler method, combine egg whites and granulated sugar in a heat-safe bowl. Place over a saucepan on low heat with approx. 1 inch of simmering water, making sure the bowl does not touch water. Stir constantly until the sugar has dissolved and the mixture does not feel gritty between your fingers, approx. 2-3 mins. Remove bowl from heat.

3. Prepare your piping bag with the desired tip and place it in a tall glass. Prep baking sheets with silicone mats or parchment paper.

4. Add cream of tartar to egg/sugar mixture. Using a hand/stand mixer with the whisk attachment, whisk until your meringue forms stiff peaks.

5. Add 1/3 of the flour/sugar mixture into the meringue. Using a spatula, mix just until combined. Add the remaining dry ingredients. Continue to mix until a ribbon-like consistency flows off the spatula and you can draw a figure-8 completely several times. Transfer into a piping bag and tie the opening securely.

6. Preheat the oven to 300°F (150°C).

7. Pipe macarons onto baking sheets, tapping them onto the counter a few times until cookies settle. Let sit uncovered for 20-30 mins or until cookies for skin and it's dry to the touch. Bake for 17 mins turning sheets halfway and let cool completely. Match up the cookies and transfer to a wire rack.

8. For the ganache, heat up heavy cream in a microwave-safe cup or bowl for 1 min. Place chopped white chocolate in another bowl and pour in hot cream. Let sit for 10 mins covered, then mix with a spatula until fully melted. Divide into 3 bowls and add powder until you achieve the color desired. Cover bowls and refrigerate until thickened to desired piping consistency.

9. Place all colored ganache into individual piping bags. Spread cling wrap flat on the counter. Pipe ganache into strips, alternating all colors. Roll cling wrap to encase ganache together lengthwise similar to a sausage casing, twisting and tightening the ends. Cut one end of wrap with scissors to create an opening, then place it into a large piping bag with desired tip. Pipe ganache onto cookies. Store them in an airtight container in the fridge for 1-3 days for full flavor, and ENJOY!
---