Pink Pitaya Coconut Cream Tart
This Pink Pitaya Coconut Cream Tart is packed full of goodness! It's the perfect way to fuel your day!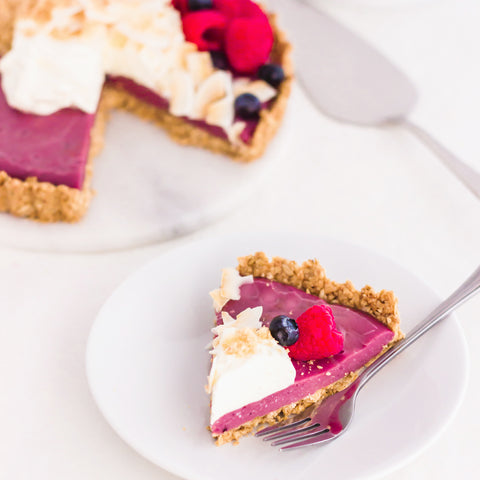 Directions
1. Crust — Preheat oven to 350 F. In a food processor, combine the Suncore Foods® Snow Quinoa Flakes, Suncore Foods® Hemp Seeds, and pulse until coarsely ground. Add in the nut butter, maple syrup and coconut oil and pulse until the mixture can be pressed together with your fingers without it crumbling. If it's too dry, add a little more coconut oil. Place the tart crust mixture into an 8″ tart pan with a removable bottom. Press firmly down and up along the edges. Use the bottom of a drinking glass to press the tart so it's even. Bake the tart crust for 20 minutes at 350F, until lightly golden brown. Remove from oven and cool.
2. Pink Pitaya Filling —In a small saucepan, add the coconut cream, coconut sugar, and heat over medium-low heat. Add the 2 tbsp of cornstarch to 1 tbsp cold water and stir so the cornstarch is dissolved. When the coconut cream is almost at a boil, add in the cornstarch slurry and whisk until slightly thickened, about 2-3 minutes. Remove the coconut cream mixture from the heat and add in the Suncore Foods® Pink Pitaya Powder. Whisk to incorporate. When the filling has cooled, pour it into the tart crust. Let it set in the fridge for 2-3 hours.
3. Garnish with coconut whipped cream, toasted coconut chips, crushed sweet potato puffs, and mixed berries.
4. Serve chilled.
---