Vegan Rosé Donuts
A little rosé infused donuts to get your morning started!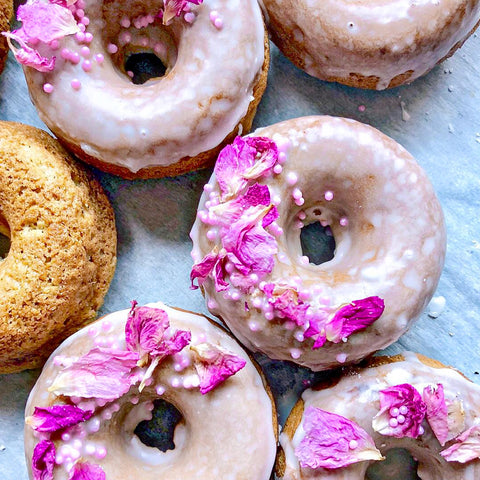 Ingredients
Makes A Dozen

Rose Donuts:
1½ cup all-purpose flour
¼ cup fresh raspberries puréed
½ tsp baking soda
½ tsp baking powder
¼ tsp fine Himalayan pink salt
½ cup granulated sugar
2 tbsp vegetable oil
1 tsp of flaxseed meal mixed with 5 tsp of almond milk
¾ tsp vanilla extract
½ cup rosé wine
2 tbs almond or soy yogurt
For the Glaze:
2 cup powdered sugar
2 tsp of rose water
Suncore Foods® Rose Petals
Pink sprinkles
2 tbsp almond milk
3 tbsp rosé wine

Special Tools:
6-cavity doughnut pan or dozen mini donut pan
Directions
1. Preheat oven to 350ºF and lightly coat the donut pan with nonstick cooking spray. Set aside.
2. In a bowl, whisk together the flour, baking soda, baking powder, and salt.
3. In a separate bowl, whisk together sugar, vegetable oil, puréed raspberries, flax eggs, vanilla extract, rosé wine, and almond milk until smooth. Slowly add the dry ingredients into the wet ingredients and keep mixing until combined.
4. Transfer the batter into a piping bag to make it easier to pour. Snip the end and pipe the batter into the pan, filling each ⅔ of the way full.
5. Bake for 16 to 18 minutes, or until a toothpick inserted in the middle comes out clean. Cool in the pan for 2 to 3 minutes and then transfer to wire racks to cool. Repeat with the remaining batter, lightly coating with more nonstick cooking spray before filling.
6. In a bowl, whisk together powdered sugar with rose water, plant milk and rosé wine until smooth. Dip cooled doughnuts into the glaze and then garnish with Suncore Foods® Rose Petals and pink sprinkles.
---