Pink Pitaya Coconut Truffles
 These bite sized Pink Pitaya Coconut Truffles will make you go coco-nuts!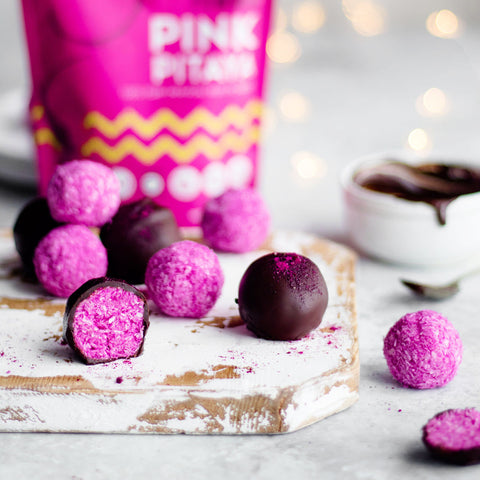 Ingredients
Truffle:
2 cup dried desiccated coconut
2 tbsp Suncore Foods® Pink Pitaya Powder
⅓ cup coconut condensed milk
2-3 tbsp coconut oil
Chocolate Dip:
1¼ cup dark chocolate
2 tbsp coconut oil
Directions
1. Add desiccated coconut, Suncore Foods® Pink Pitaya Powder, condensed milk and coconut oil in a mixing bowl and mix until combined into a thick dough.
2. Roll into balls and place evenly onto a parchment lined baking tray.
3. Place into the freezer to harden. 
4. Melt chocolate, add in the coconut oil and stir in. This will make it a little thinner and easier to manage. Carefully dunk each ball into the chocolate mixture to coat, then set on a piece of parchment paper and return to the fridge to set, about 10-15 minuets. Enjoy! 
---