Quinoa Vegetable Soup
Is there anything better than a warm bowl of homemade soup on this cooler weather? Soup and stews are our go to meal prep recipes because they're quick to make and great for leftover & today calls for a nice warm hearty pot of Quinoa Vegetable Soup. Using Suncore Foods® Snow Quinoa Flakes. Enjoy the dEats below and cozy up with a hearty warm bowl of this soup!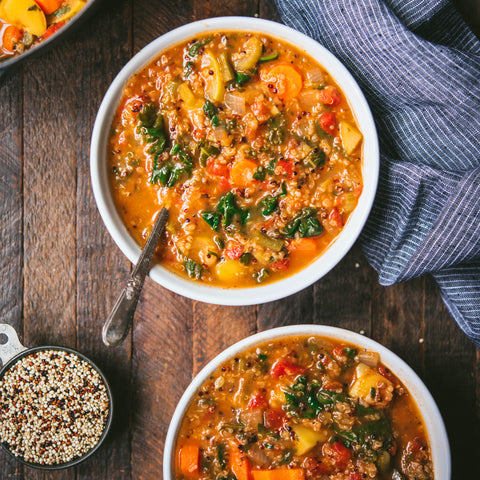 Ingredients
3 tbsp olive oil
3/4 cup diced yellow onion
2 cloves garlic, minced
1/2 cup green beans, trimmed and sliced in half
1 1/4 cup diced yellow potatoes
3/4 cup carrots, diced
3/4 cup diced yellow squash
3/4 cup celery, thinly sliced
4 cups vegetable broth
1 14.5 oz can crushed fire roasted tomatoes
1 cup kale
1 cup spinach
1 tsp dried thyme
1 tsp dried oregano
1 tsp salt
1/2 tsp pepper
2 bay leaves
1/3 cup freshly chopped parsley
2 cups cooked Suncore Foods® Snow Quinoa Flakes (approximately 1 cup uncooked)
Directions
1. Prepare quinoa according to package directions. Heat olive oil in pan over medium heat. Add onion and cook 5-7 minutes. Add garlic, carrots, potatoes, squash, celery and green beans and continue cooking 5-7 minutes. Add in the rest of the ingredients with the exception of the cooked quinoa and let simmer for 30-35 minutes, or until all vegetables are tender. Spoon ‪1/3-1/2‬ cup quinoa into a bowl and ladle soup over the top.
2. Enjoy!
---