Unicorn Colorful Vanilla Blueberry Cake
Happy Valentine's Day! Turn your Valentines desserts into a canvas of artsy colors and fun!  Bring out your inner magic with this magical Unicorn Colorful Vanilla Blueberry Cake. Beautifully colored the buttercream frosting with Suncore Foods® Aqua Blue Spirulina, Indigo Blueberry, Pink Pitaya, and Purple Sweet Potato Powders for a burst of vibrant hues! A must-have cake of our dreams!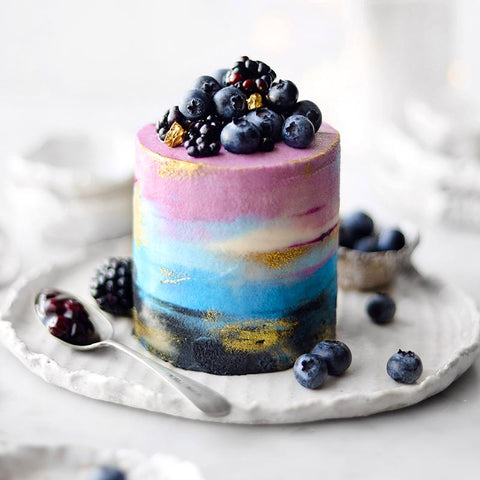 Ingredients
Cake:
1/2 cup cake flour
3/4 cup all purpose flour
1/3 cup sugar
1/2 tsp baking powder
1/4 tsp baking soda
1/4 tsp salt
1/4 cup coconut yogurt
1/2 cup soy milk
1/3 cup coconut oil
1/2 tbsp vanilla

Blueberry Filling:
2 cups blueberries
1 tbsp Suncore Foods® Indigo Blueberry Powder
1/4 cup maple syrup
1 tbsp cornstarch
1 tbsp lemon juice
1/4 cup water
Buttercream:
100g dairy free butter
1 1/2 cups powdered sugar
1 tsp vanilla bean extract
1-2 tbsp full fat coconut milk
Suncore Foods® Powders for the color, used Aqua Blue Spirulina, Indigo Blueberry Pink Pitaya and Purple Sweet Potato
Directions
1. To Make the Cake – Preheat your oven at 170c. Prepare the small baking pan. Set aside.
 In a mixing bowl, combine dry ingredients. In a medium bowl mix together wet ingredients. Gently fold the mixture with a spatula to incorporate. Slowly pour the batter into prepared pan.
Bake for 30-35 mins or until a toothpick inserted into the center comes out clean. Allow the cake to cool completely.
2. Blueberry Filling — Place the blueberries in a saucepan with lemon juice and water. Cook on medium low heat for 2 minutes. Add cornstarch, Suncore Foods® Indigo Blueberry Powder, and maple syrup to the blueberries. Cook on low – the mixture will thicken and looks glossy. Remove from heat Let cool completely.
3. Buttercream — Whip butter in the stand mixer bowl with the paddle attachment, on medium to high speed for about 2 minutes. Stop mixer and add the sifted powdered sugar. Mix on low speed until incorporated. Scrape the bottom and sides of the bowl and then add in 1 tbsp of coconut cream (if you're looking for thinner consistency, add more coconut cream) mix on high speed for 2-3 minutes until smooth. Color the buttercream with Suncore Foods® Powders.
---