Red Beet Cashew Frosting Earl Grey Pound Plum Cake
Happy Valentine's Day! We're feeling the loving feeling and we're ready to dig into this gorgeous treat! One slice for you, one slice for your loved one! This Red Beet Cashew Frosting Earl Grey Pound Cake is going to make your taste buds jump for joy. It's plant-based, vegan, dairy-free, refined sugar-free, and soy-free, not to mention, it's absolutely beautiful! Incorporated Suncore Foods® Red Beet Powder to to achieve that rose-toned layer of sweet goodness! We'll have to stop ourselves from enjoying the whole loaf and remind ourselves to quit loafing around and focus on this pound cake loaf!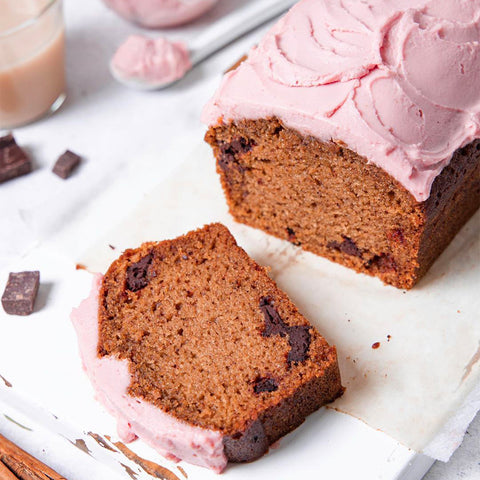 Ingredients
Plum Cake:
1 1/2 cups white spelt or all purpose flour
1/2 cup moscovado sugar or coconut sugar
1/2 cup light brown sugar
1 1/2 tsp ground cinnamon
1 teaspoon baking soda
1/2 teaspoon sea salt
1/3 cup coconut oil, melted, room temp
1/3 cup black tea, room temp
1 teaspoon vanilla bean paste
1 teaspoon white vinegar
1 cup almond milk
1/4 cup dark chocolate, chopped

Red Beet Cashew Frosting:
3/4 cup cashews, soaked overnight
1/2 cup coconut cream from a can
1/4 cup raw cacao butter, gently melted, at room temp
3 tbsp rice syrup
1 tsp Suncore Foods® Red Beet Powder
Pinch salt
Directions
1. Preheat the oven to 350 F degrees. Line a 22x 12 cm | 9 x 5 inch loaf pan with parchment paper.
2. In a medium bowl, mix together the cinnamon, flour, sugar, baking soda and salt together. Set aside.
3. In a separate bowl, mix together the coconut oil, tea , vanilla, vinegar, and almond milk until well combined.
4. Stir in the wet ingredients into the dry ingredients and stir until just combined.
5. Pour the batter into the baking pan and bake for 50-55 minutes, or until a toothpick inserted in the middle comes out clean.
6. Frosting – Place the cashews, coconut cream, rice syrup, lemon juice, vanilla and Suncore Foods® Red Beet Powder in a high speed blender and blend until smooth. Add the cacao butter gradually through the top of the blender while the motor is running. This should blend in completely and you should end up with a smooth cream. Place in the refrigerator for at least 4 hours, or overnight and give it a good stir before using.
---