Pineapple Coconut Goldenberry Tart
Are you ready for a vacation with this tart? Take a trip to the tropical islands with this Pineapple Coconut Goldenberry Tart! Floral notes and crunchy pieces of coconut? What more can we ask for? Who wants a slice?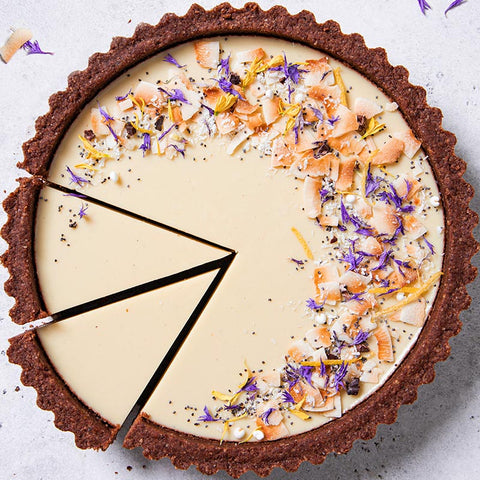 Ingredients
Crust:
100g almond flour
70g oat flour, gluten-free if needed
1 tbsp raw cacao powder
3 pitted medjool dates
3 tbsp melted coconut oil
1/2 tsp salt

Filling:
300g fresh pineapples
1 tsp vanilla bean paste
150g full fat coconut cream
100 ml almond milk
1-2 tbsp honey or maple syrup
1 tbsp coconut oil, melted
1/4 tsp ground cardamom
1/4 tsp salt
1.5 tsp agar agar powder
2 tsp Suncore Foods® Yellow Goldenberry Powder

Toppings:
Coconut Chips
Suncore Foods® Cacao Nibs
Suncore Foods® Hemp Seeds
Corn flowers
Directions
1. Crust – Preheat oven to 170 Celsius degrees. Place almond and oat flour, cacao powder and salt into a food processor and pulse to combine. Add dates and coconut oil. Blend until the mixture resembles wet sand. It will be a bit sticky. Press the crust mixture firmly into a 20cm tart pan. Poke some holes into the bottom of the crust with a fork. Bake for 8-10 minutes until fragrant. Remove and cool completely.
2. Filling — Place the pineapple, coconut cream, vanilla and honey into a high speed blender and blend until completely smooth. Pass the mixture though a sieve and pour into a small saucepan together with the rest of the ingredients. Heat on medium heat and bring to a brief boil. Reduce heat and simmer for a couple of minutes or until it starts to thicken.
3. Remove from heat and let cool down for 5 minutes. Pour over the prepared crust. Let it cool down to room temperature, then place in the refrigerator to set for at least 2 hours.
---