Sparkly Amber Passion Fruit Flakes Chocolate Cupcakes
These Sparkly Amber Passion Fruit Chocolate Cupcakes are shimmering their way down to satisfy all your sweet tooth cravings! Light, sweet, filled with tropical flavors, and topped with Suncore Foods® Sparkly Amber Passion Fruit Flakes to let them shine! Made perfectly to celebrate Wellness Wednesday or any day of the week with a little sparkle and these little cakes in hand. These beauties completely blown our minds away!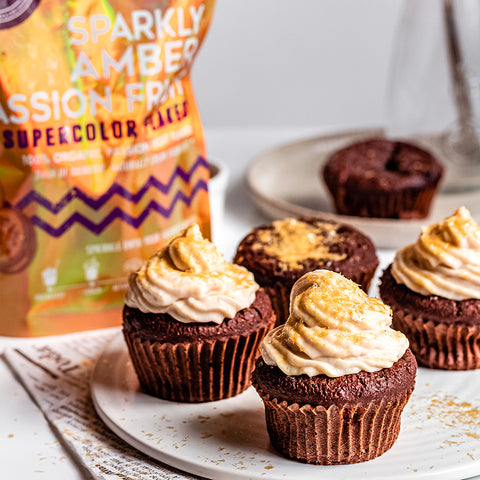 Directions
1. Preheat your oven to 350F/180C and line a 12-cup muffin pan with greased baking cups. In a large bowl, whisk together coconut oil, sugar, milk, applesauce, vanilla, and apple cider vinegar. In a separate bowl, combine the remaining (dry) ingredients, then sift the dry mixture into the wet. Fold until combined, and.spoon the batter into the baking cups. Bake for 25 minutes, or until an inserted toothpick comes out clean. Let cool completely before decorating.
2. In a large mixing bowl, combine all frosting ingredients and beat until fluffy. Transfer to a piping bag and place in the fridge until ready to use, then decorate the cupcakes with Suncore Foods® Sparkly Amber Passion Fruit Flakes.
---