Sweet Potato Carrot Turmeric Soup
Especially with the cold weather, we're definitely searching for a new soup to obsess over. Fortunately, this Sweet Potato Carrot Turmeric Soup saves the day!! Incorporated Suncore Foods® Autumnal Sweet Potato Yam Powder to color and spice up the soup to perfection. Get your spoons and bowls ready for this hearty and warm soup!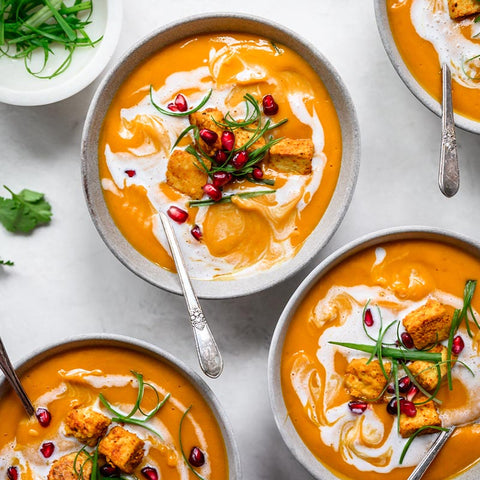 Ingredients
1/4 cup olive oil or dairy free butter
1 yellow onion, diced
2 large cloves garlic, minced
3 large carrots, roughly chopped
4 cups sweet potatoes, diced
6 cups low sodium vegetable broth
2 tbsp coconut sugar
1 tbsp turmeric powder
12 tbsp Suncore Foods® Autumnal Baked Sweet Potato Yam Powder
1 1/4-1 1/2 tsp salt
3/4 tsp cumin
1/2 tsp paprika
1 1/2 tbsp rice wine vinegar
1 tbsp sriracha
Directions
1. Preheat large stock pot over medium heat. Add butter, then add onion and garlic and sauté, stirring a few times for 5-6 minutes. Add carrots and sweet potatoes and stir well. Then add broth to pot and bring soup to a boil. Add in coconut sugar, turmeric, Suncore Foods® Autumnal Baked Sweet Potato Yam Powder, salt, cumin, paprika, rice wine vinegar, and sriracha.
2. Once soup boils, lower heat, cover, and simmer for 30-35 minutes. Transfer to a high speed, heat safe blender. Blend until smooth and return to pot.
3. Taste and adjust seasoning if necessary. Top with crispy tofu, thinly sliced green onion, and pomegranate seeds. 
---