Vegan Hemp Seeds Tart with Apple Mousse
Roses are red, violets are blue, we're in love with this tart too! This Vegan Hemp Seed Tart with Apple Mousse has the perfect combo of sugar and spice, you're tastebuds will be jumping for joy! Super moist, light & indulgent with golden brown Suncore Foods® Hemp Seeds flaky crust. Best of all, it is topped with delightful apple roses! A comfort food perfect for any dessert table with family or friends all year round.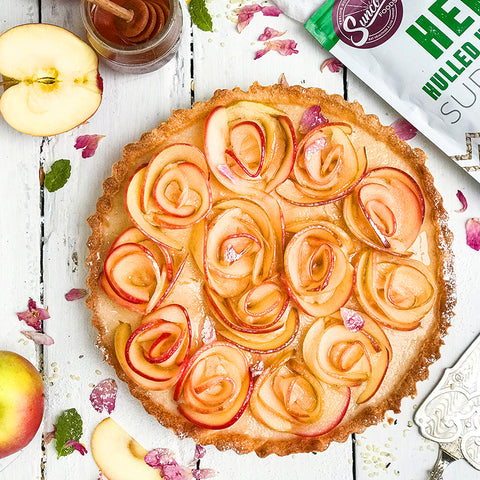 Ingredients
Crust:
150g spelt flour
50g coconut sugar
3-4 tbsp Suncore Foods® Hemp Seeds
100g margarine
2 tbsp yoghurt
Filling:
500g apples
50g coconut sugar
1 tsp cinnamon
6g gelatine
30 ml water
120g yoghurt
Decoration:
4 apples
Directions
1. Grease a tart tin. Set aside.
2. In a food processor add crust ingredients and pulse to combined. Refrigerate for 1 h . Preheat the oven to 180c . Firmly press the dough into bottom and up the side of tart tin. Bake for 20 min until crust is golden brown. Let it cool.
3. Apple mousse: Cut the apples on four , remove the seeds and sprinkle them with sugar, cinnamon and bake in 160c for 30 minutes. Cool them, add yoghurt and Blend. Soak the gelatine in the water for 10 minutes. Than heat it up and stir until dissolved . Don't boil. Add to the apples and blend. Pour the mousse into the crust. Refrigerate for 1-2 hours and than decorate with apples .
---