Sweet Pandan Milk Bread
Cause some pandan-monium with this mesmerizing Sweet Pandan Milk Bread! This loaf is definitely a show stopper and only requires 7 to make! A fun way to add a pop of color to your pre-packed sandwiches for those summertime picnics!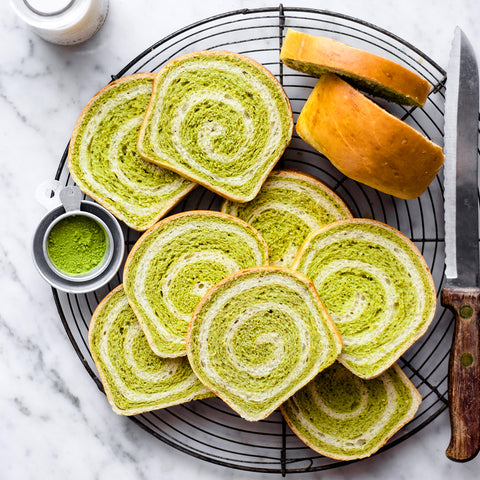 Directions
1. Add sugar, warm milk and yeast in a measuring cup, let sit for 10 mins until bubbles to form in the cup.

2. In a stand mixer combine bread flour, salt. Add the yeast mixture, oil into bread flour mixture.

3. Mixing on low-medium speed with the hook attachment until the dough comes together, continue kneading until the dough is smooth.

4. Remove half of the dough from the mixer, set aside. Add Suncore Foods® Emerald Pandan Leaf Powder into the half dough and continue kneading until it combined. Remove the dough from the mixer. Knead dough into a ball. Cover dough & let them proof for 1 hour until it's doubled in size. Transfer them to a clean surface.

5. Roll out dough until they form thin rectangle. Place Pandan dough on top of the white dough and begin rolling up the dough along the wide/long side of the rectangle, Place it in a bread pan and let rise until doubled in size, about 1 hour. Brush the top of the bread with coconut oil. Bake at 180c for 25-30 minutes.
---