Garnet Elderberry Blackberry Blueberry Ice Cream
Today is officially the first day of summer! As the weather warms up, so do our cravings for cool refreshing treats. This homemade Garnet Elderberry Blackberry Blueberry Ice Cream is sure to hit the spot!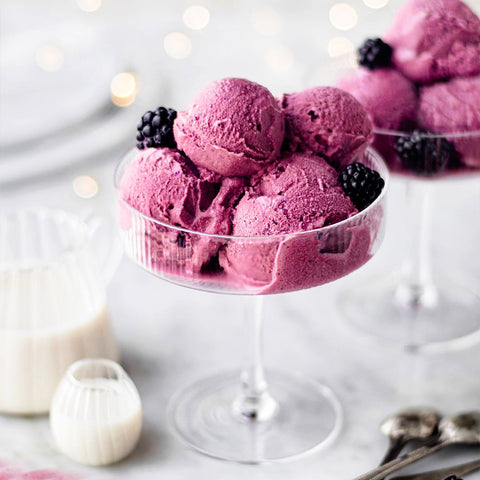 Directions
1. Combine blackberries, maple syrup and lemon juice in a small saucepan set over medium heat. Bring to a boil and mash berries. Puree blackberry mixture using a blender, then strain through a fine mesh strainer.
2. In a large bowl combine berry purée, Suncore Foods® Garnet Elderberry Powder, Suncore Foods® Indigo Blueberry Powder, and coconut milk then mix until smooth.
3. Cover the bowl and place it in the fridge for 1 hour.
4. Pour the mixture into an ice cream maker and churn according to your manufacturer's instructions. Serve immediately as soft serve or transfer ice cream to a freezer container and freeze until firm.
---