Yellow Goldenberry Pancakes
What better way to start the day than with positively delectable light, moist, and super fluffy pancakes topped with your favorite toppings. It is the perfect tropical getaway vibes that you just may be able to drift off to a deserted island even if for a short while.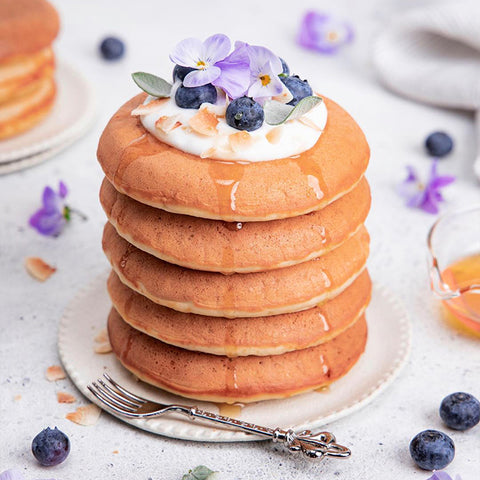 Ingredients
Dry Ingredients:
2 cups spelt flour
2 tsp baking powder
1/2 tsp baking soda
2 tsp Suncore Foods® Yellow Goldenberry Powder

Wet Ingredients:
2 tbsp butter/ vegan butter, Melted
2 tbsp honey/agave or rice syrup
1/2 tsp salt
1 tsp vanilla bean paste
1 cup vegan buttermilk*
1/2 cup + 2 tbsp almond milk
*1 cup almond or soy milk + 1.5 tbsp lemon juice

Topping:
Berries
Coconut chips
Edible flowers
Directions
1. In a medium bowl, combine spelt flour, baking powder, baking soda, Suncore Foods® Yellow Goldenberry Powder, and salt.
2. In a small bowl, combine the wet ingredients. Stir to combine.
3. Pour the wet ingredients over the dry ingredients and whisk to combine.
4. Don't over mix! Lumps are fine.
5. Heat a small non- stick pan (12cm) on medium heat.
6. Drop about 2 tbsp of the batter and bake on each side for 2 minutes or until golden brown.
7. Toppings — Coconut yogurt, coconut chips, edible flowers, maple syrup, and blueberries.
---