Rose Pink Pitaya Glazed Annatto Carrot Cake
Perfectly moist and delicious yet another the best Rose Pink Pitaya Glazed Annatto Carrot Cake you'll ever try. Carrot cake is an abundant during the spring and this will quickly become your family favorite as it has becomes our favorite. Made with lots of fresh carrot, topped with the most heavenly cream cheese frosting. Over-the-top beautiful!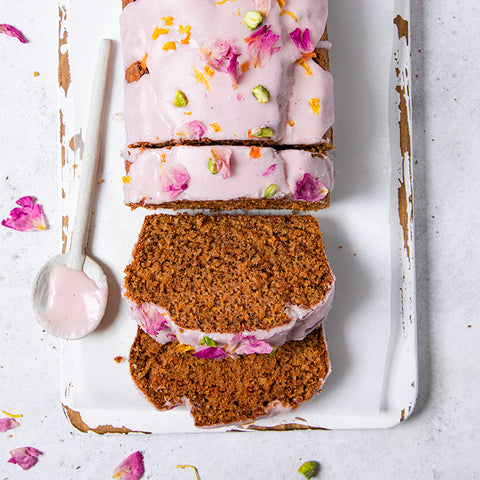 Ingredients
Dry Ingredients:
125g (1 cup) whole wheat flour
60g (1/2 cup) spelt flour/ all purpose flour
20g hazelnut meal
20g almond meal
1 tsp baking powder
0.5 tsp baking soda
0.5 tsp salt
1 teaspoons ground cinnamon
1/4 teaspoon nutmeg
1/3 tsp Suncore Foods® Autumnal Baked Sweet Potato Yam Powder

Wet Ingredients:
60ml (1/4 cup) vegetable oil
60g (1/2 cup + 1 tbsp) light brown sugar*
60g (1/2 cup + 1 tbsp) coconut or unrefined brown sugar, finely ground*
120ml (1/2 cup) almond milk
30ml fresh orange juice
1 tsp pure vanilla bean paste
100g (2 medium) carrots
Peel of 1 organic orange
2 tsp Suncore Foods® Pink Pitaya Powder
*use coconut sugar only for refined sugar-free
Toppings: Pistachios and Suncore Foods® Rose Petals
Directions
1. Preheat the oven to 180C / 350F. Grease and line one 22 cm loaf cake pan.
Peel and grate the carrots and set aside. 
In a medium bowl, sift together the dry ingredients.
2. In a large bowl whisk the oil, sugar and vanilla for a few minutes until the sugar starts to dissolve, then stir in the almond milk and orange juice. 
Sift in the dry ingredients and stir to combine.
3. Stir in the hazelnut flour and grated carrot, fold to combine.
4. Pour the batter into the baking pan and bake in the oven for 45 minutes or until a toothpick inserted near the center comes out clean.
5. Allow to cool in the tins for 10 minutes, then turn out onto a wire rack to cool completely.
6. To make the frosting, combined fresh blood orange juice with almond milk, Suncore Foods® Pink Pitaya Powder, and powdered sugar.
---