Matcha Coconut Chia Pudding Jars
This quick & easy, creamy Matcha Coconut Chia Pudding Jar is full of delicious goodness to keep you satisfied all morning! It's perfect with homemade granola and fresh fruit. Made with Suncore Foods® Midori Jade Matcha Powder to create the beautiful green color, that can help you stay energized throughout the day. To top it all off, sprinkled with homemade granola made from Suncore Foods® White Chia Seeds. Get your spoons ready to dip into this dream of breakfast!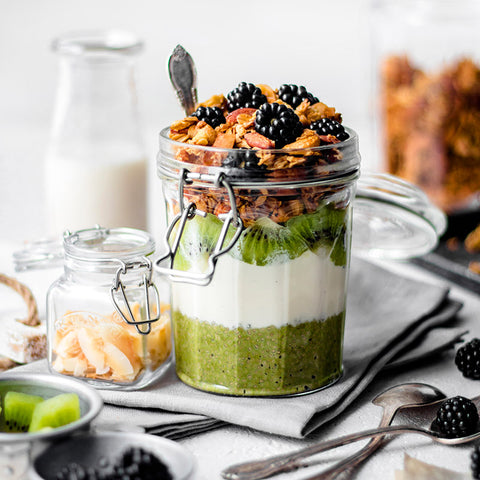 Directions
1. Whisk all Matcha Chia Pudding ingredients until well combined. Place chia pudding in resealable containers and refrigerate for at 2 hours or overnight.
2. For Granola. Preheat oven to 180 degrees celsius. Line baking sheet with parchment paper. In a large bowl, combine all granola ingredients. Stir until all the oats and nuts are well coated. Press mixture onto lined parchment paper, spread into flat layer. Bake for 30-35 minutes or until golden brown. Remove from the oven. Let cool completely before breaking apart. Enjoy! 
---