Vanilla Safflower Sweet Potato Yam Turmeric Japanese Milk Bread
This golden melt-in-your-mouth Vanilla Safflower Sweet Potato Yam Turmeric Japanese Milk Bread is the perfect treat to pair with your weekend afternoon coffee or tea! A bite of this is a taste of good-for-you sunshine!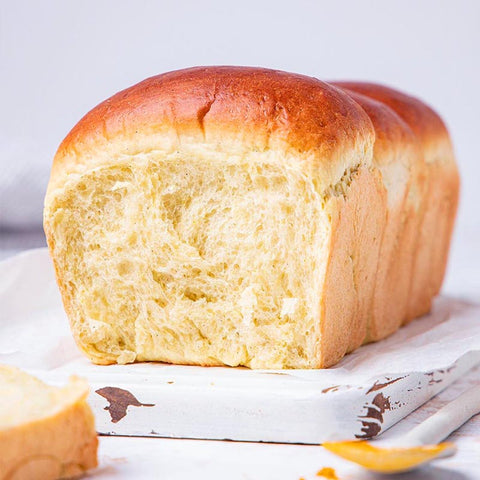 Ingredients
Water Roux (Tangzhong):
25g bread flour
1/2 cup water

Bread Dry Ingredients:
9g instant yeast
2.75 cups bread flour
1/3 cup light brown sugar
1 tsp salt
1 tsp turmeric powder
1 tsp Suncore Foods® Autumnal Baked Sweet Potato Yam Powder

Bread Wet Ingredients:
1/2 cup soy milk, warm (55C|110F)
2 tsp vanilla bean paste
All the roux
1/4 cup plant-based butter, softened
Directions
1. Make the roux by cooking the flour and water until you get a curd. Set aside to cool to room temperature.
2. In a medium bowl, combine the dry ingredients.
3. Add the warm milk, vanilla and roux to the bowl of a stand mixer fitted with the hook attachment. Then add the dry ingredients.
Turn the mixer on medium-low and mix for 5-7 minutes until gluten develops and the dough feels elastic. 
4. Add the butter one tablespoon at a time and wait until it's fully incorporate before adding more.
5. Mix for another 5-7 minutes until the butter is completely incorporated and the dough is smooth and feels elastic.
6. Shape the dough into a ball and transfer to a greased bowl. Cover and let rise for 60-90 minutes or until doubled in size.

7. Gently deflate the dough and divide into 4 equal parts and shape into 4 balls.
Cover and let rise for 15 minutes.
8. Lightly grease a 25x10 cm loaf tin.
9. Using a rolling pin, roll out each dough into an oval. Fold the two short edges towards the center.
10. You should end up with a rectangle.
11. Starting from one short edge, roll the dough into a log and place into the tin seal side down. Repeat with the remaining dough.
12. Cover and let rise for another 30-60 minutes or until the dough reaches the border.
13. Preheat the oven to 175C | 350F degrees.
14. Brush the bread with some soy milk.
15. Bake for about 15 minutes, then lower the heat to 160C and bake for another 10-12 minutes or until the top is golden brown.
Remove from oven and let cool into the pan for 10 minutes before transferring to a rack to cool down completely.
---