Purple Sweet Potato Steamed Bread Buns
How can anyone resist freshly fluffy steamed Purple Sweet Potato Bread Buns, let alone one shaped in blossoming lotus, and come in vibrant purple hue? Most importantly, these beautiful scrumptious steamed buns will bring smiles when you bite them! Made with Suncore Foods® Purple Sweet Potato Powder into the dough for the stunning hue! We'll definitely be munching more than one!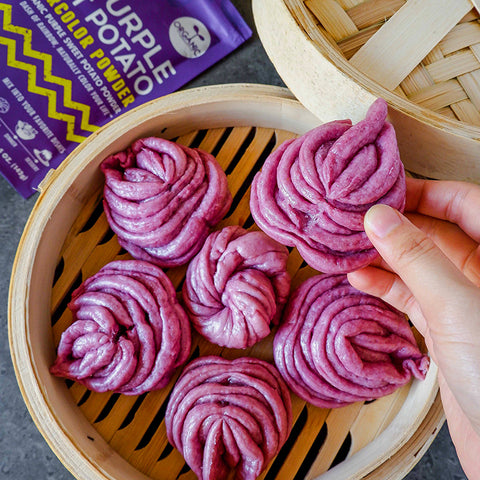 Ingredients
Wet Ingredients:
1 cup warm soy milk or other non-dairy milk
1 tbsp neutral oil

Dry Ingredients:
3 cups (375g) all-purpose flour
2 tsp instant dry yeast**
1/4 cup (55g) sugar
1/2 tsp salt
2 tbsp Suncore Foods® Purple Sweet Potato Powder

*If you don't have sesame oil, feel free to use regular neutral oil like canola, rice bran, etc.
**You can store opened packages of yeast in the freezer to make sure they're still good for future use!
Directions
1. In a large bowl, mix together all dry ingredients.
2. Mix warm soy milk and oil. Pour it in the flour mixture while mixing. Keep mixing until a dough is formed.
3. Shape the dough into a ball. Knead for a few minutes, around 20-30 times.
Brush the bowl with some oil then place in the dough. Cover it with a towel and let it rest in a warm place for at least 2 hours to let the dough rise.

4. Making the buns (you can also check out the video!) – Divide the ball of dough into half for easier handling. Leave your other ball of dough covered so it doesn't dry out. Flour your surface. Roll out the ball of dough into a large circle or square—the shape won't really matter! Until it's evenly thin and laid out. With a circle cookie cutter or any cup/bowl, that's around 3-4" in diameter, cut as many circles on your laid out dough. Remove the excess dough and set aside with the other ball of dough. See video above for a better idea. Take 4 circles and slice into a half, making 8 halves. Place them alternately above each other. Press down in the middle with the blunt side of your knife. Press the ends together until you have a shape similar to a heart. Set aside in a covered tray. Repeat for the remaining circles and remaining dough. Set aside the buns to proof and continue to rise for another 30 minutes before steaming.
5. Steaming the buns – Place the buns with enough space beside each other since they will still expand when cooking. Place in a steamer and steam for 12-15 minutes. Leave the buns to sit in the steamer for 10 minutes before taking out the lid. Enjoy!

6. Reheating/Storage Tips – You can reheat your buns from the refrigerator by steaming. You can freeze steamed buns. Steam the buns from frozen until cooked and fluffy.
---