Sunshine Goldenberry Bliss Balls
Saturday is the most wonderful day of the week and we are striking the day between eating good & satisfying our sweet tooth with these delicious pick-me-ups concoction, Sunshine Goldenberry Bliss Balls! Made with Suncore Foods® Yellow Goldenberry Powder. Great for any time of the day, as a post-workout snack or as a snack for kids and adults alike.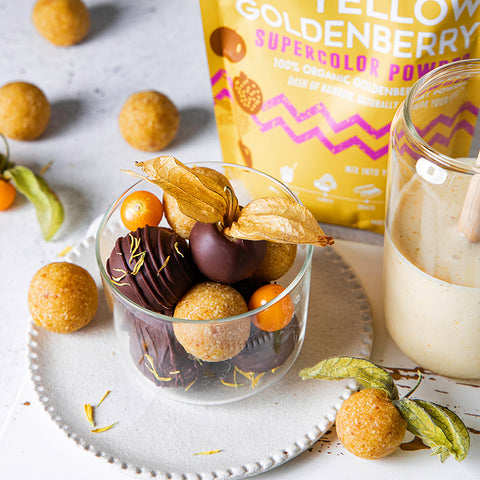 Ingredients
Make 20 Bliss Balls
140g (1 cup) raw cashews
100g (1 cup) shredded coconut
2 tsp Suncore Foods® Yellow Goldenberry Powder
8 medjooles dates, pitted
1 tbsp maple syrup
60ml orange juice
1 tsp orange zest
1/2 tsp vanilla bean paste
150g chocolate, chopped, to cover
Directions
1. Soak the dates in hot water for 5 minutes if they're too dry. Drain and dry.
Add all ingredients to a food processor.
2. Process until only a few small chunks remain.
3. Taste and adjust sweetness if desired by adding more maple syrup.
4. Transfer to a bowl and place in the fridge to set. This will make it easier to roll into balls.
5. After about 30 minutes, scoop out 1/2 to 1 tbsp of dough and roll into a ball. Optional: place one fresh golden berry into each ball.
6. Place the balls over a lined tray. Freeze the balls for at least 2 hours.
7. Melt chocolate over Bain-Marie or in the microwave.
8. Dip the balls into the chocolate and decorate as you like. Place in the refrigerator to set for 10 minutes.
9. These balls can be stored in the fridge for 1-2 weeks, or in the freezer for 1 month.
---