Blackberry Blueberry Cheesecake with Purple Sweet Potato White Chocolate Glaze
When the sweet tooth comes a-knockin', this crowd-pleasing must have Blackberry Blueberry Cheesecake is rich, smooth, ultra-creamy, and such a delicious luscious option. You will be especially impressed by its show-stopping mirror Purple Sweet Potato White Chocolate Glaze, truly spectacular to impress your guests or loved ones this Valentine's Day!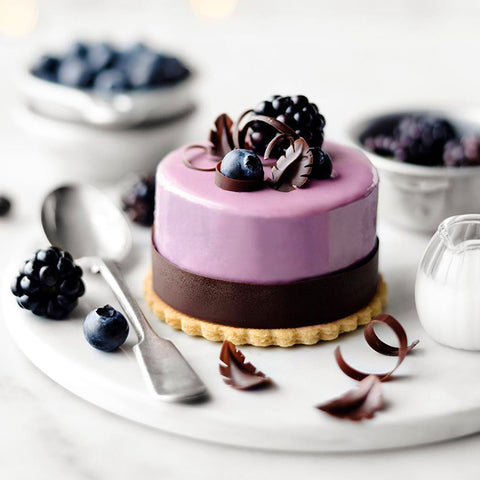 Ingredients
Cheesecake:
1 1/2 cups soaked cashew nuts
1/3 cup blueberries
1/3 cup blackberries
1/4 cup melted cacao butter
1/4 cup maple syrup
2 tbsp coconut milk
1/2 tsp vanilla extract
1/4 tsp salt
Glaze:
1/2 cup water
1/2 cup coconut condensed milk
1 cup cacao butter
1/4 cup sugar
1/2 tsp agar powder
2-3 tsp Suncore Foods® Purple Sweet Potato Powder
Directions
1. Add all cheesecake ingredients into a food processor and process until smooth. Pour mixture into silicone molds. Place in the freezer and freeze overnight.
2. In a saucepan, add the sugar, water and heat over medium-low heat, stirring occasionally. When mixture begins to simmer, add the condensed milk cacao butter, agar powder. Keep stirring until agar completely dissolve. Take it off the heat, pour about 1 cup of the glaze into a heat resistant bowl and whisk in dissolved Suncore Foods® Purple Sweet Potato Powder until well-mixed. Pass the glaze through a fine strainer to remove any lumps. Leave the glaze to cool.
3. Once the glaze has cooled, pour it over the frozen cheesecake which is on top of a cup, sitting on a tray with a edge to catch the drips.Leave the glaze to set for 5 minutes before using a hot knife to remove the drips.
4. Carefully place the glazed cheesecake on a cookie base. Garnish with berries and enjoy!
---