Rainbow Raviolis
Amp up your dinner plate with bursts of vibrant color! These Rainbow Raviolis have us saying ooh la la on how gorgeous they are and tasty too! Made with Suncore Foods® Powders for those colorful and delicious vibes!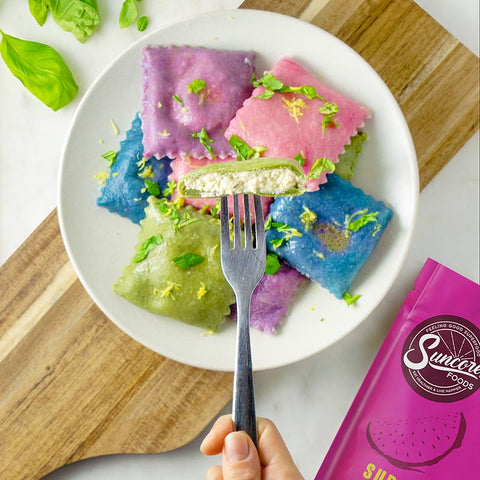 Directions
1. Combine cashews and water into a blender and blend until smooth. Pour mixture into a mixing bowl and add remaining ingredients for filing into bowl. Stir well and set aside.
2. For the ravioli combine all dry ingredients in one bowl and all wet ingredients in another mix well and add wet to dry. Mix well.
3. Separate dough into four sections. Add a color to each section and knead dough well to mix in color. Cover and set in fridge for 30 minutes.
4. Remove dough from fridge once time is up. Grab a color dough and roll out into avery thin rectangle. Add a large spoon of ricotta into small piles on one half of the dough sheet.
5. Fold over the other half of dough sheet and press a ravioli stamp around each pile. In a large pot bring water to boil.
6. Re-roll dough and repeat process until finished. In a small pot on medium heat add butter and lemon. Let butter simmer for around 4-5 minutes or until browned.
7. Boil raviolis until they float to surface. Remove and pour on butter and add zest and basil. Serve and enjoy.
---