Passion Fruit Blueberry Coconut Muffins
These little guys are sure to wake you up with a smile! After all, who doesn't love a sparkling delicious dessert that doubles as breakfast the morning after? Infused and topped with Suncore Foods® Sparkly Amber Passion Fruit Flakes to create this beautiful speckled presentation that is also absolutely delicious & ridiculously addictive! Ultra moist, and bursting with zesty fresh fruity flavor – each bite is like a little taste of paradise.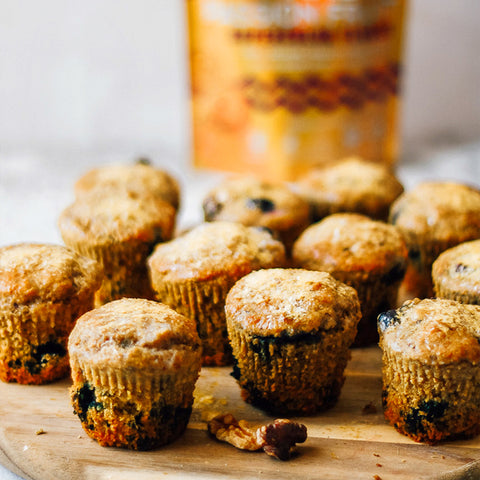 Directions
1. Preheat the oven to 185C and line a muffin tray.
2. Begin by mixing the dry ingredients together in a bowl until all combined. In another bowl, stir together the milk, vanilla, lemon zest, soy milk, lemon juice, flax egg and oil. Incorporate into the dry mixture and mix together. Do not overmix though!
3. Add the bluebs and fold into the batter.
4. Spoon mixture evenly into muffin tins filling each around 3/4 full. Bake for 20-25 minutes or until a skewer comes out clean from the middle. Remove from oven and let muffins cool briefly before removing from pan.
5. Sprinkle a nice handful of Suncore Foods® Sparkly Amber Passion Fruit Flakes for extra tanginess. Enjoy!
---