Cacao Nibs Chocolate Granola Sapphire Wolfberry Yogurt Parfaits
This extra-special yogurt parfait creation is almost too pretty to eat and as mesmerizing as they are download delicious! Layered in between pillowy spoonfuls of Sapphire Wolfberry Yogurt made using Suncore Foods® Sapphire Wolfberry Powder to create the velvety royal purple color, you'll find everything from sweet & crunchy Cacao Nibs Chocolate Granola to rainbow of colorful goodness. Easily customizable and perfect for meal prepping as a breakfast, snack or even dessert. Get really creative with them and let us know how you are using your Suncore Foods® products.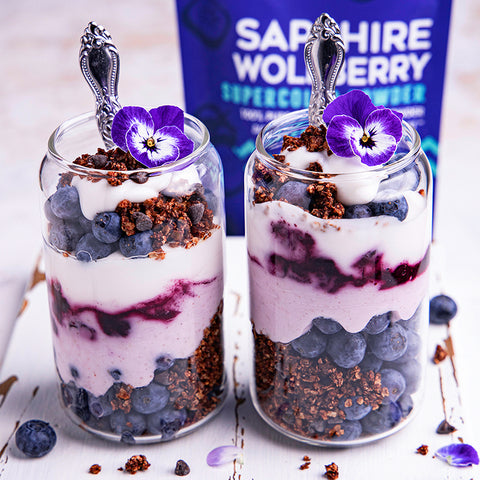 Ingredients
Chocolate Granola:
1/2 cup | 50 g fine oats, gluten-free if needed
1/2 cup | 50g millet flakes
1/4 cup | 10g puffed quinoa
2 tsp Suncore Foods® Cacao Nibs
1/4 tsp salt
1/2 tsp ground cinnamon
1 tbsp pure maple syrup
1.5 tbsp vegetable oil
2 tbsp water
Add-ins (optional) chopped nuts, mini chocolate chips

To Make the Jars:
Wolfberry cream made with coconut yogurt and Suncore Foods® Sapphire Wolfberry Powder
Fresh blueberries
Blueberry compote
Easy chocolate granola
Directions
1. In a medium bowl, combine the oats, millet, quinoa, Suncore Foods® Cacao Nibs, salt and cinnamon and stir well.
2. In another bowl, add oil, maple syrup and water. Stir to combine.
3. Pour the wet ingredients over the dry and stir to combine.
4. Preheat the oven to 160C degrees.
5. Spread the granola evenly over a lined baking tray.
6. Bake for 15 minutes until golden brown, stirring half way.
7. Let cool down completely over a rack and store into a clean hermetic jar .
8. To make the blueberry compote: add 1 cup of blueberries (fresh or frozen), 1 tbsp maple syrup,1/2 tsp ground cinnamon and 2 tbsp water to a small saucepan and cook over medium heat until soft and juicy. Let cool down.
---