Chia Quinoa Coconut Breakfast Bowl
This may be a big statement, but we think this may be our favorite granola breakfast bowl yet! A hearty Toasted Chia Quinoa Coconut Granola Breakfast Bowl that's simply, and oh-so-very delicious. The ultimate breakfast food throws together in a matter of minutes. Or better yet, make it ahead of time. An absolutely delicious way to say, Good morning!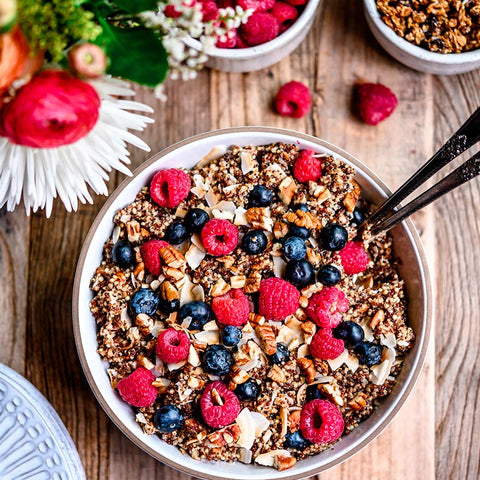 Directions
1. Add water, Suncore Foods® Rainbow Quinoa Seeds, and Suncore Foods® Snow Quinoa Flakes to a large pot. Bring to a boil, and then reduce to medium low and simmer for about 20 minutes, or until liquid has been fully absorbed. Stir in coconut oil, maple, salt, pecans, berries, Suncore Foods® Black Chia Seeds, and coconut flakes.
2. Serve topped with more berries and coconut chips. Enjoy!
---