Ruby Red Radish Berry Infused Water
Everybody could drink a little more water everyday, and with delicious recipes for infused water, it would be so much easier and enjoyable! This recipe for Ruby Red Radish Berry Infused Water is so quick and easy, we have no excuse to not drink our water! With just 4 (yes, FOUR) , this drink can be in your hand as you kick back, relax, and just take a few minutes to recharge and collect yourself. And with a glowing violet red color made from Suncore Foods® Ruby Red Radish Powder, this refreshing and vibrant drink is hard to resist! With the jubilant red color from the drink and a handful of cranberries paired with a sprig of rosemary, we've found ourselves our new favorite holiday drink! If you ever are in search for a revitalizing drink in a warm and sunny afternoon, or a festive mocktail, you must try this recipe!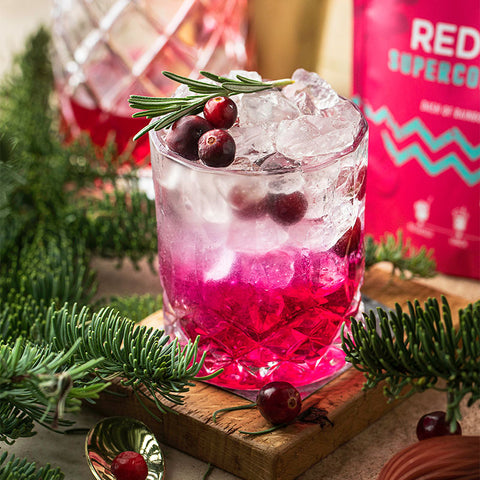 Directions
1. Dissolve Suncore Foods® Ruby Red Radish Powder in water.Pour some of this mixture into the glass just to cover the bottom of the glass.
2. Fill the glass all the way with the ice and cranberries, and slowly top the glass with club soda.
---