Raindrop Crystal Wagashi
An amazing, soft & chewy magical Japanese sweet delicacy made with love and once you bite into them, your will be filed with its wondrous colors and flavors. Using Suncore Foods® Blue Butterfly Pea Powder and Suncore Foods® Lilac Taro Yam Powder to create a marvelously unique colors in these Raindrop Crystal Rainbow Wagashi (Mochi) and the end result is a surprisingly refreshing dish that absolutely make all our hearts fluster!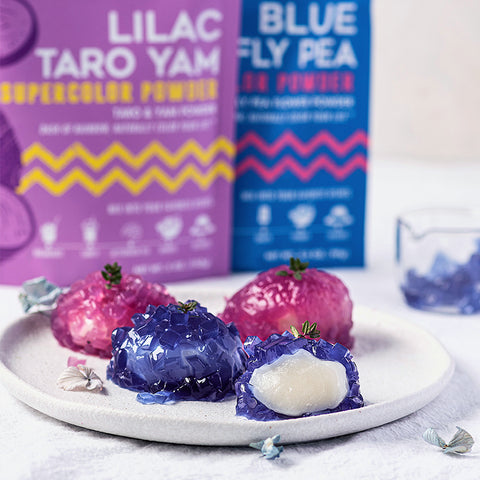 Directions
1. Dissolve Suncore Foods® Lilac Taro Yam Powder in water, add sugar and agar agar powder. Mix well and then microwave 1 minute or more until the agar powder completely dissolved. Pour the mixture into a flat container and put in the fridge until set. Follow the same process for blue crystal using Suncore Foods® Blue Butterfly Pea Powder.
2. Then mix all the mochi ingredients in a bowl and steam for 25 minutes. Then add coconut oil/butter and let it cool for 5 minutes.
3. Wear gloves and knead for about 5 minutes until it becomes elastic. Divide into 8 pieces and set aside.
4. Take the crystals out, cut into tiny square pieces. Take a piece plastic wrap and place 2 tbsp crystals on it, then place the mochi on top of it. Carefully wrap them together and cool in the fridge for 30 minutes.
---