Rainbow Tower Trifle
It's a Rainbow Tower Trifle party! This colorful dessert is a perfectly layered celebration treat! This recipe uses a dash of all of the colors of the rainbow!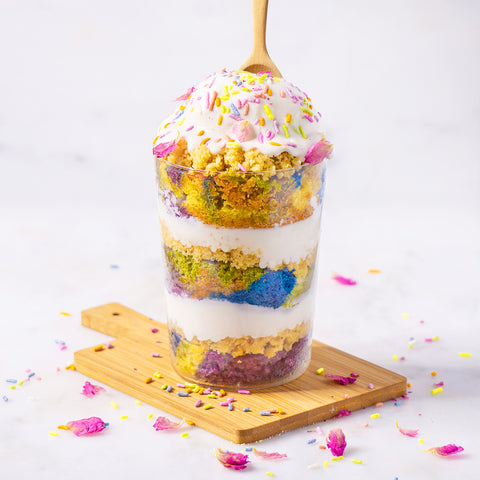 Directions
1. For the cake combine all ingredients into a bowl and whisk well.
2. Separate batter into 5 bowls and add a color to each bowl. Whisk well until batter is fully colored.
3. Preheat oven to 350º F. In a greased cake pan add colors randomly to cake pan. Swirl with a tooth pick and place in oven for 30 minutes.
4. Once time is up allow cake to completely cool.
5. In glassware of choice layer with cake cutouts, crumbled cookie, then cool whip. Repeat process until finished.
6. Top trifle off with cool whip, rose petals, and rainbow sprinkles. Serve and enjoy!
---