Rainbow Shag Cake
Roll out the shag carpet! We're heading back to the far out 60s!! This groovy, retro Shag Cake is truly one of a kind! With so many colors and textures, it's so much fun to look at! How tempted are you to run your fingers across the fuzziness? At least with this whimsical cake, you get to lick off some delicious frosting colored with Suncore Foods® Vermillion Annatto, Garnet Elderberry, Canary Yellow Safflower & Emerald Pandan Powders! We are still diehard fans of this trend! What's a retro trend you want to bring back?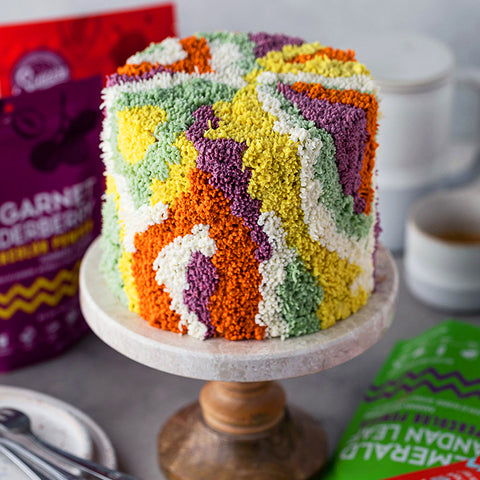 Directions
1. In a large bowl beat room temperature butter until creamy. Add powdered sugar and mix until fully combined. Whip at high speed until light and fluffy. Add vanilla extract and heavy cream and whip for another 2 minutes.
2. Leave some of the buttercream white, the remaining buttercream divide into 4 separate bowls for Suncore Foods® Powder mixing. Dissolve Suncore Foods® Emerald Pandan Powder in 3 tsp of water, add the mixture to the first bowl.
3. Dissolve Suncore Foods® Garnet Elderberry Powder in water and add mixture to the second bowl.
4. Dissolve Suncore Foods® Canary Yellow Safflower Powder in water and add it to the third bowl.
5. Dissolve Suncore Foods® Vermillion Annatto Powder in water and add it to the last bowl.
6. Prepare 5 piping bags with piping tip #233. Fill each piping bag with the colored buttercream.
7. Pipe rings of buttercream between the cake layers. Cover the cake with a thin, crumb coat and chill for a few minutes.
8. Use toothpick to mark the design you want for your cake. Color by color add you piping within the lines you've marked out. Repeat the piping with each color in your palette until all of the markings are filled in and the cake is covered in shag.
---