Pink Pitaya Rose Buttercream Matcha Cookies
These freshly baked cookie are the perfect treat to satisfy your sweet tooth. Treat yourself & your loved ones to something pretty & sweet, crisp, crunchy, but yet filled with creamy deliciousness. These bright, delightful Pink Pitaya Rose Buttercream Matcha Cookies are just perfect for you! Achieve this refreshing green color with Suncore Foods® Midori Jade Matcha Powder. For this lovely pink rose buttercream, Suncore Foods® Pink Pitaya Powder was incorporated for extra fun & delightful taste. Live, love, eat cookies.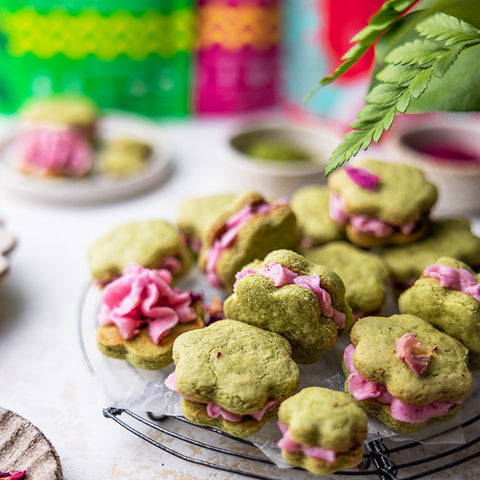 Directions
1. Matcha Cookies — Combine milk and flaxseed meal and set aside for 5 minutes, stirring every 2 minutes. In a large bowl, cream together butter and sugar until fluffy and well combined. Mix in almond extract plus milk-flax mixture. Fold in flour, salt and Suncore Foods® Midori Jade Matcha Powder and form a dough ball. The dough will be soft. Tightly wrap the dough in cling film and refrigerate for minimum 2 hours up to overnight. When ready to bake, preheat oven to 350 deg. F and line a baking tray with parchment paper. Cut the dough into 2 portions and work with 1 portion at a time, while keeping the remaining dough refrigerated. Using a rolling pin, roll out the dough to approximately ¼ inch thick. Using cookie cutters, cut dough and place cookies on the baking tray. Bake for 8-10 minutes. Allow cookies to cool down completely before adding buttercream.
2. Rose Buttercream — Buttercream: Using an electric beater, cream butter for 2-3 minutes. Mix in cream of tartar and add sugar, 1 cup at a time, until well combined. For a thicker buttercream, use more sugar and for a thinner buttercream use less sugar or add plant-milk, 1 tsp at a time, until you're happy with the consistency. Mix in Suncore Foods® Pink Pitaya Powder and continue to beat for a few seconds until well combined. Using a spatula, fold in Suncore Foods® Rose Petals. Transfer buttercream to a piping bag and using large piping tips (1A, 1M, etc.) add buttercream to cookies as per preference. Sandwich the buttercream by placing another cookie over it and gently pressing it down.
---