Chia Matcha Prickly Pear Popsicles
It's summertime, enjoy and keep it sweet like these popsicles! Making these Chia Matcha Prickly Pear Popsicles is super simple and a fantastic way to make a light and delicious snack that is jam-packed with all kinds of yumminess from Suncore Foods® Black Chia Seeds, Midori Jade Matcha, and Cerise Prickly Pear Powders. The divine creaminess of chia pudding pairs well with the icy juiciness of pineapple in these frozen delights. Perfect for a party event or to freeze ahead of time and save the rest for another time!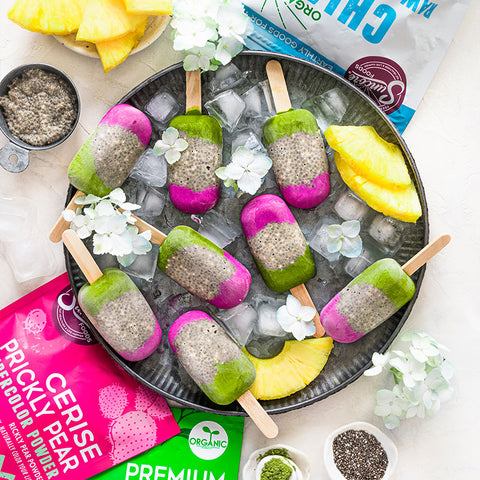 Directions
1. Soak cashews in drinking water for 20-30 minutes.
2. While the cashews are soaking, combine all the Suncore Foods® Black Chia Seeds layer ingredients in a bowl or a jar and set aside for 15-30 minutes, allowing the chia to activate.
3. Drain the water from the cashews and place cashews along with yogurt, pineapple juice and chopped pineapple in a blender. Blend until smooth and very well combined.
4. Divide mixture into 2 bowls and mix in 1 Suncore Foods® Powder into each bowl. Alternatively, remove half the mixture from the blender and set aside. Mix in 1 Suncore Foods® Powder to the blender and blend again until well combined. Rinse blender and repeat this process for the remaining mixture mixing in the 2nd Suncore Foods® Powder.
5. For Flat Horizontal Popsicle Molds — Add 2-3 tsp of the chia seed mixture in the centre of each popsicle mould. Pour Suncore Foods® Powder mixtures on either side of the chia seed layer.
6. For Vertical Popsicle Molds — Pour small amounts of 1 Supercolor mixture into each mold and freeze for 20 minutes until the mixture lightly solidifies. Next, spoon equal amounts of the chia seed mixture into each mold followed by the remaining Suncore Foods® Powder mixture.
7. Freeze overnight and allow the popsicles to thaw for 5 minutes before removing from molds and serving.
---