Rainbow Kue Lapid Pepe (Indonesian Layered Cake)
Treat yourself this delicious and colorful Rainbow Kue Lapid Pepe. This Indonesian Layered Cake is a traditional treat made of steamed layered soft, moist, chewy rice flour pudding, layers by layers! The best part is that you can easily peel the layers and enjoy them individually. Eat the rainbow they said; we use Suncore Foods® Powders to add colors to this unique, authentic cake. Made with creamy coconut milk, this dessert is delicious and flavorful with a light sweetness. Let's try this fun recipe, have fun & enjoy!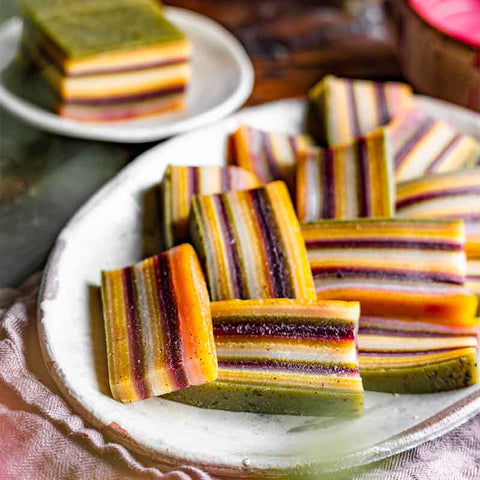 Directions
1. Fill a pot half full with water and put a steaming basket large enough to fit your mold.
2. Brush the inside of your mold with oil, and cover the bottom with parchment paper and brush oil on top of it, place the mold inside the steamer.
3. Cover the lid with a piece of fabric to absorb all the condensation so the moisture will not fall into the cake.
4. Sieve tapioca starch, rice flour, sugar, pandan and salt together. Pour in the coconut milk and water into the mix, and combine it well.

5. Divide the batter into even amounts of bowls of colors you want to make and add subsequent Suncore Foods® Powders for the colors

6. Bring the steamer water to boil, mix the batter gently before pouring to avoid sediment in the bottom.

7. Pour desired thickness into the mold until it covers the whole surface evenly.
8. Place the lid and let it cook for 5-7 minutes for each layer until the layer turns opaque and dry ( important). Repeat with different colors depending on your design until it is finished. Steam for another 15 minutes after the last layer (normally the last layer is subsequently put thicker).
9. Let the cake cool, then remove it from the mold.
10. Cut with a knife blade wrapped in plastic wrap to prevent sticking. Best to consume in a day or two, and leave it at room temperature. Enjoy!
---