Blue Butterfly Pea Macarons with White Chocolate Lemon Ganache
These delicate Butterfly Pea Macarons with Chocolate Lemon Ganache filling blue our minds! Join our peaceful Saturday with this sweet treat cast in a calming baby blue made from Suncore Foods® Blue Butterfly Pea and Aqua Blue Spirulina Powders. The duo of delicately, crispy, and chewy meringue and the slight tang of white chocolate lemon ganache will send your tastebuds to foodie heaven. Happy piping and cheers to the weekend!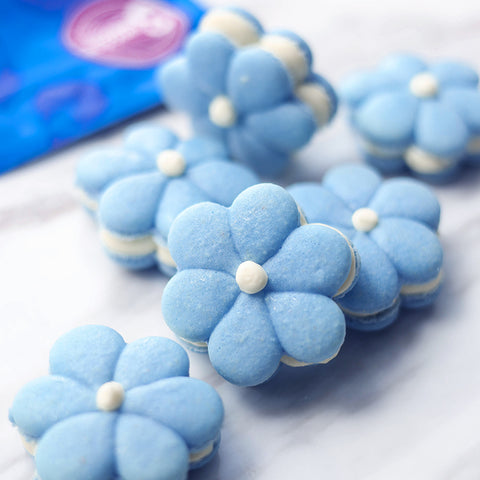 Directions
1. Ganache — Heat the coconut whipping cream in a saucepan. Pour the hot cream over the chocolate, add lemon extract, and mix until smooth. Place plastic wrap over it so it is touching the surface of the ganache or place it directly into a disposable piping bag. Place ganache in the fridge until needed.

2. Aquafaba — Strain the liquid from the canned chickpeas and weigh to 150g. In a saucepan cook chickpea water on very low heat and reduce to 60g, stirring occasionally. When it reaches 60g, transfer to a bowl, cover in plastic wrap and refrigerate overnight.

3. Macaron — Combine the powdered sugar and almond meal and place in a food processor. Blend to achieve a finer consistency then pass through a sieve. Set aside.

4. Whisk the aquafaba with the cream of tartar and one-third of the sugar until a medium peak. Gradually add in the remaining sugar and continue whisking for 4 mins. Add the Supercolor Powder whisk for 2 mins until combined.

5. Fold the almond powdered sugar mixture through the meringue by hand. Add the blue butterfly pea powder and whisk until the mixture is smooth and shiny. Pipe macarons on a baking sheet. Let sit at room temperature for 45 minutes before baking. Bake at 150°C for approximately 13-15 mins. Allow macarons to cool completely.

6. Assemble, pipe chocolate ganache into each macaron, and sandwich together.

 
---