Rainbow Heart Cookies
These delectable sugar cookies are the window to our hearts. Wishing everybody love and happiness this Valentine's Day with these sweet Rainbow Heart Cookies. These sugar cookies are fantastic for any occasion as they keep their shape after baking, so we won't be seeing any melting hearts. Deliciously sweet with a delicate bite, they will make any day brighter. And since we can't fully express our love with one color, we have Suncore Foods® Emerald Pandan Leaf, Cerise Prickly Pear, Blue Butterfly Pea, Red Beet, and Yellow Goldenberry Powders to showcase the full spectrum of our hearts! Let's bake some dreams crumb true!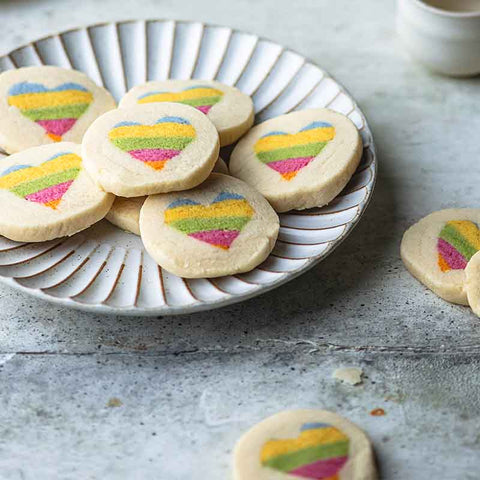 Directions
1. Using a hand mixer, beat butter until creamy. Add powdered sugar and beat until combined. Add the eggs, vanilla, and salt. Beat until well combined.
2. Gradually, add the flour until dough is moist and holds together. Divide the dough into half. Divide one half dough to 5 small pieces. Add powder to each piece and knead until color is uniform.
3. Roll the original color dough and colored doughs to rectangular shape.
4. Heart – lay the colored doughs on top of each other to a rectangular prism. Cut into thick slice. Use the mode to cut out heart shapes. Assemble them together.
5. Cover the heart shape log with the original color piece and shape to a bigger log.
6. Wrap in plastic wrap and chill for 30 minutes. Preheat oven to 330˚F.
7. Once chilled, remove the plastic wrap, slice cookies and place on a parchment paper-lined baking sheet.
8. Bake for 15 minutes and reduce the heat to 300F and bake for another 6 minutes.
9. Cool on a cooling rack.
---