Power Pink Pitaya Crepes with Yogurt and Poached Pears
When aiming for elegance and sophistication, people tend to shy away from bright colors, and we ask "why" when you can have such a classy plate as these Power Pink Piraya Crepes with Yogurt and Poached Pears that are bursting with vibrance and flavors! This is an exquisite and refreshing take on elevated rustic charm and with the special touch of Suncore Foods® Power Pink Pitaya Pancake & Waffle Mix! Poached pears equate to "fancy," and infused with the wonderful spices of chai, drizzled with golden honey, and nestled in creamy yogurt and delicately light crepes, mouths will water and souls will melt in warmth. Crepes as gorgeous as these are fantastic as an elegant dessert or an extra special breakfast!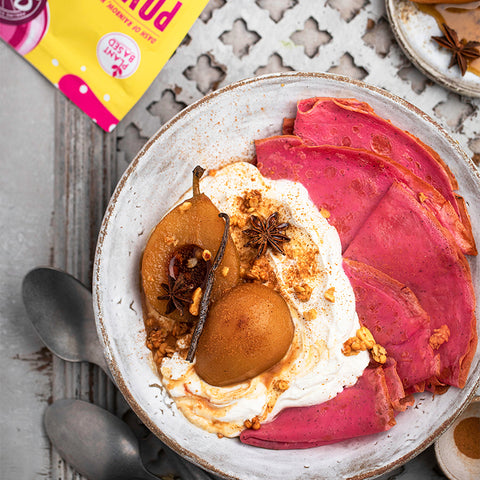 Directions
1. Combine Suncore Food® Power Pink Pitaya Pancake & Waffle Mix with milk and stir well until incorporated. Set aside for about 5 minutes.
2. Preheat a frying pan over low heat and spray some Pam oil over it. Pour the batter into the pan and cook over low heat for about 3minutes. Flip the crepes and continue cooking for 3 more minutes.
3. Peel the pears and cut in half . In a pot bring water to boil.
4. Add a tea bag and brew for 10 minutes. Add honey and stir. Add pears to boiling water and simmer for 15 minutes. Rotate the pears and simmer another 15 minutes.
5. Serve crepes in a bowl, top with whipped cream and poached pears.
6. Pour some syrup from pears over the crepes and pears and garnish with granola.
---