Berrylicious Ombre Layer Cake
Take your cake to new heights with this Berrylicious Ombre Layer Cake equipped with hearty layers of incredibly moist cake--each with its own special color made with Suncore Foods® Powders. This Valentine's Day, avoid the crowds of last-minute shoppers at the flower and card section and bake this utterly gorgeous cake! With a stunning ombre buttercream icing and tremendously ornate buttercream flowers, anybody's heart will go pitter patter once they lay their eyes on it. Recreate a gallery-worthy cake complete with stunning buttercream roses because "romance is the icing in the game of love."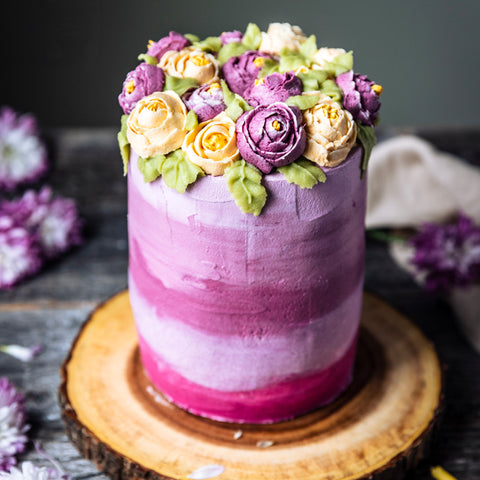 Directions
1. Heat oven to 350 F.
2. Butter and flour 4 6-inch round baking tins and cover the bottom with parchment paper.
3. Cream room temperature butter using a stand mixer fitted with the paddle attachment until pale and fluffy.
4. Add sugar, vegetable oil, and vanilla extract and mix at medium speed until mixture is very light in color.
5. Add yogurt and milk and mix to combine. Add eggs and egg yolks one at a time and mix to combine scraping down the sides of the bowl with each addition.
6. Sift in half of the all purpose flour, salt, and baking powder and mix on low speed using the paddle attachment until just combined. Sift in the second half and mix until just combined.
7. Divide the cake batter equally into 4 parts. Mix in the supercolor powders for each of the layers separately into each of these parts. Transfer to cake tins and bake until a toothpick inserted in the center comes out clean – about 25 minutes.
8. Let cool on a wire rack until room temperature. Using a serrated knife level the tops to get even flat surfaces. For best results, freeze individual cake layers wrapped in cling film overnight and let thaw at room temperature for an hour before using. This makes the cake moist.
9. Using the paddle attachment, cream the butter until pale and fluffy. Working in batches, sift in confectioners sugar and mix scraping down the sides after each addition. Continue until all the confectioners sugar is incorporated. Add in the vanilla and the heavy whipping cream to get to the desired consistency.
10. Assemble the cake layers using a generous amount of frosting for each of the layers. Apply a thin layer of buttercream to the outside of the cake and smooth it to capture all the crumbs. Refrigerate for an hour.
11. Divide the remaining buttercream into individual bowls. Use Suncore Foods® Purple Sweet Potato Powder & Suncore Foods® Lilac Taro Yam Powder to create different shades of purple. Use Ebony carrot to create different shades of pink.
12. Use Suncore Foods® Yellow Goldenberry Powder to create a yellow shade. Use Suncore Foods® Midori jade Matcha Powder to create a green shade for leaves.
13. Pipe shades and pink and purple on the sides and smooth with a cake smoother to create an ombre look. Pipe an assortment of flowers (I used a curved petal tip to pipe peonies and a #352 to pipe leaves at the base of the flowers).

---