Quinoa Flake Goji Berry Muffins
These Quinoa Flake Goji Berry Muffins are just what you need to kick off 2019. And they are such a tasty treats... want one or two?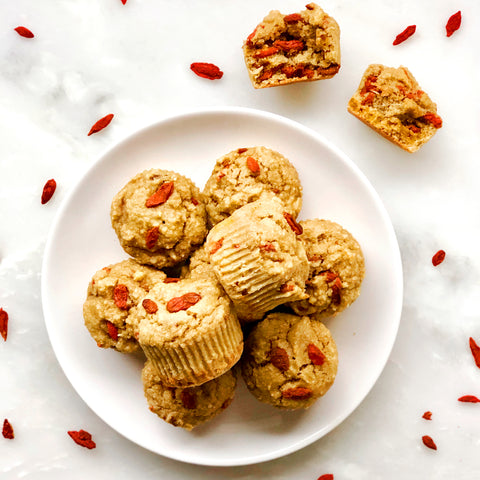 Ingredients
2 cups Suncore Foods® Goji Berries
3/4 cups Suncore Foods® Snow Quinoa Flakes
1/2 cup almond milk or milk of choice
3/4 cup almond flour
1 tsp baking powder
1/4 tsp baking soda
Flax or chia eggs or 2 pasture raised eggs
1/2 cup yogurt of choice
3 tbsp maple syrup or date syrup or honey
Optional: A few scoops of collagen for added protein & gut healing properties
Directions
1. Preheat oven to 350F.
2. Mix dry ingredients in a large bowl or stand mixer (add collagen here if using).
3. Add wet ingredients through the honey and combine into an even batter then fold in the goji berries.
4. Scoop about 1/4 cup of the batter into 12 lined muffin tins.
5. Bake for 15 minutes until a toothpick comes out clean.
6. Let cool in a baking rack and enjoy!
---