Rainbow Mille Crepe Cake
Making this rainbow is a great way to celebrate and it's easier than you think especially this is a delicious Rainbow Mille Crepe Cake using every color possible from our powder series. Simply whimsical, beautiful, and sophisticated!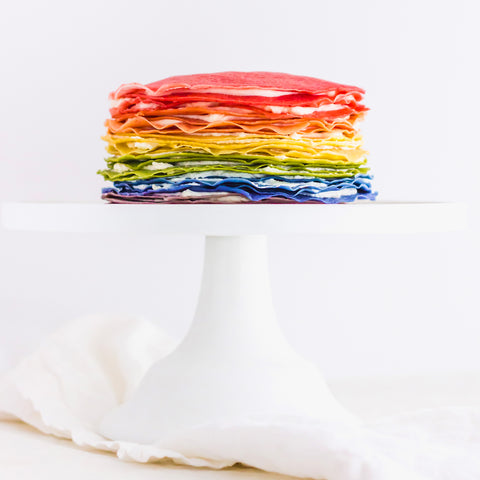 Directions
1. Combine all the ingredients together in a blender. Blend until smooth.
2. Cover and let sit for 1-2 hours in the refrigerator.
3. When ready to make the crepes, remove batter from fridge.
4. Use a wooden spoon and stir the mixture.
5. Divide the batter into 6 equal portions (about 100g each) in 6 individual bowls.
6. Mix the corresponding Suncore Foods® Powders to color each bowl individually from red to purple. Strain each colored batter through a sieve before pouring into the firing pan.
7. Heat up a small 5" frying pan and grease with a little oil.
8. Pout about 2 tsp of batter into 5" frying pan. Each colored batter should produce about 4 x 5" crepes.
9. Let it cook over low heat, about 1-2 minutes, flip, and continue cooking for another minute.
10. Remove to a wire rack to cool.
11. Repeat with the remaining batter.
12. Ensure crepes are completely cool before stacking upon each other. Crepes can be made ahead of time and stored in refrigerator for up to 3 days, or frozen for up to 3 months. Place a piece of parchment paper in between the layers if freezing.
13. Starting with the purple crepes, lay one crepe on a plate and place 1 tsp of whipped cream on top. Smooth the surface with a spatula and lay another crepe on top. Repeat with the remainder of the crepes, moving through the colors.
14. Place into the fridge to set for at least 4-6 hours before serving.
15. Serve chilled. Slice, and enjoy!
---