Lemon Lentil Quinoa Turmeric Soup
Wanted to join us and make a big batch over the weekend and meal prepared for the week? This is one hearty, light and satisfying Lemon Lentil Quinoa Turmeric Soup that'll warm you right up, a pure comfort with plenty of bright lemony goodness!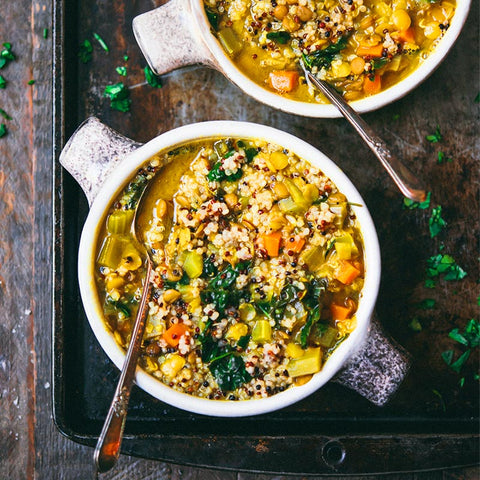 Ingredients
1 tsp turmeric
1 cup Suncore Foods® Rainbow Quinoa Seeds
1 1/2 to 1 3/4 salt
1/4 cup olive oil
1 medium onion, diced
3 cloves garlic, minced
1 cup diced carrots
1 cup diced celery
6 cups vegetable broth
1 cup lentils (dry)
2 bay leaves
3/4 tsp pepper
3/4 tsp cumin
1/4 cup freshly chopped parsley
1 1/2 cups laminate kale, well chopped
2 tbsp lemon juice
Directions
1. Heat oil in a large stock pot to medium. Add onion and garlic and sauté 5-7 minutes, stirring frequently.  Add celery and carrots and continue cooking for 7-10 minutes, or until softened. Add broth, lentils, bay leaves, salt, pepper, turmeric powder, Suncore Foods® Quinoa Royal Rainbow Seeds and cumin.
2. Bring to a boil, then cover and reduce heat to medium-low. Let simmer for 25 minutes.
3. Add lemon juice, parsley, and kale and cook for another 6-7 minutes just to soften.
4. Remove bay leaves before serving. Serve with 1/2 cup cooked quinoa per bowl.
---