Lemon Blue Spirulina Cheesecake
Creamy, decadent and so incredibly beautiful looking Lemon Blue Spirulina Cheesecake is the kind of grown up "playing with food" we wholeheartedly approve of! Incorporated Suncore Foods® Aqua Blue Spirulina Powder to create this enchanting gentle blue hue combined with refreshing lemon & Suncore Foods® Yellow Goldenberry Powder. Pure heavenly delight.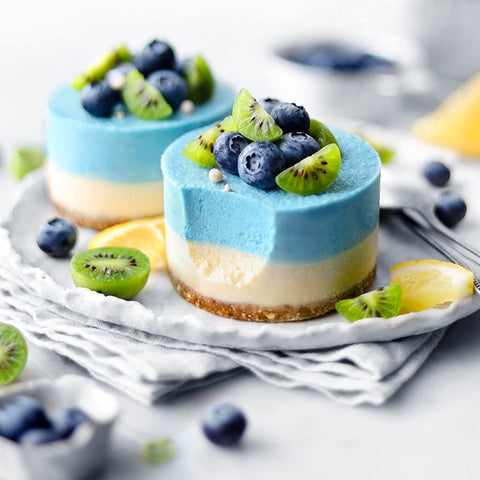 Directions
1. Base – Place all base ingredients in a food processor and processor until combined. Firmly press the mixture into the base of the silicone moulds.
2. Lemon Layer – Add all ingredients in a processor and process until smooth. Add more sweetener and lemon if desired. Pour mixture over the base. Place in the freezer until solid.
3. Blue Spirulina Layer – Repeat the same process for the Suncore Foods® Aqua Blue Spirulina Powder. Pour mixture over the set lemon layer and freeze overnight.
4. When ready to serve, remove cheesecake from mold and place it on top of the base and garnish with fruits. Allow to thaw for a few minutes before eating. Enjoy!
---