Purple Melon Pan
Let this sweet and fluffy Purple Melon Pan fuel your new week with a fun pop of luxurious purple! This beautiful deep, rich purple bread will make you feel like royalty. Suncore Foods® Lilac Taro Yam & Ebony Carrot Powders come together to make this dreamy and regal hue. Dusted with a sugary crispy coating, these pillow-soft melon pans are just delectable with a refreshing iced coffee or tea in this #summer heat! Happiness is only one bite away! Ya'll bready for this?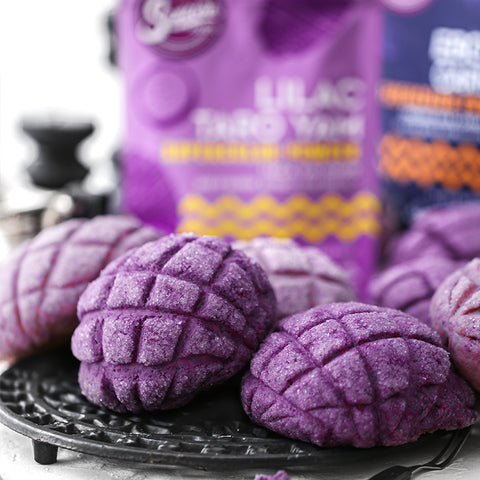 Directions
1. To Make the Bread — Place all ingredients (except butter) in a stand mixer bowl. Using a hook attachment; mix on low speed until everything comes together. Add in butter; beat on medium low speed until fully combined. Add powder directly to the dough. Knead by hand until fully incorporated. Place it in an oiled bowl, cover the bowl with cling wrap. Set aside to let it rise (1 hour).
2. To Make the Crust — Place butter in a stand mixer bowl with a paddle attachment. Lightly cream the butter; then add in the egg. Shift in all other ingredients. Beat until fully incorporated. Add the powder directly to the dough. Mix until well incorporated. (Dough will be sticky) Wrap in cling wrap and chill until the bread dough has doubled in size.
3. To Assemble — Divide the bread dough into 8 equal pcs, shape each of them round. Divide the crust dough into 8 pcs as well; shape them round.
Gently press them flat with your palm in between cling wrap; then gently roll to get even layer. Place directly on the bread; wrap well. Dip the top of the bread with sugar; then create indentation with a bread scraper. Once ready; let them rest for 45 mins.
4. Bake in 160 degrees Celsius preheated oven for 13 mins. Enjoy!
---