Pineapple Coconut Acai Chia Ice Popsicles
Beat the heat this summer treat! These Pineapple Coconut Acai Chia Ice Popsicles have our names written all over them and will have you grabbing for more! The perfect way to keep cool and beat the heat this weekend.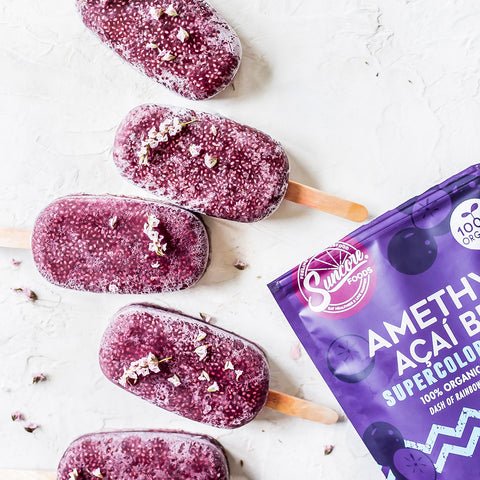 Directions
1. In a glass measuring cup, measure 2 cups of pineapple coconut water.
2. Stir in the Suncore Foods® White Chia Seeds, Suncore Foods® Amethyst Açaí Berry Powder, and agave syrup until well combined.
3. Place your popsicle molds on a baking sheet, then pour the mixture evenly into your popsicle mold. Stir the mixture while pouring it into the popsicle molds allowed the chia seeds to get dispersed more evenly.
4. Allow the ice pops to "gel up" a bit by leaving the popsicle molds on your counter, stirring frequently to keep the chia seeds from all sinking to the bottom.
5. Place into the fridge until firm, preferable overnight and enjoy!