Almond Butter Hemp Seed Granola
This Almond Butter Hemp Seed Granola has the right amount of sweetness and crunch. It's the perfect addition to your favorite oatmeal or yogurt bowl. Start your day the right way!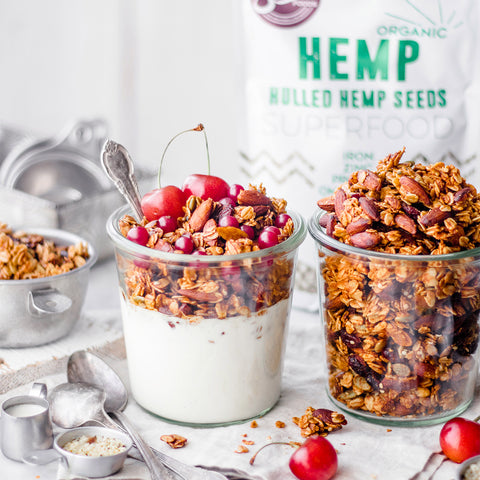 Ingredients
3½ cup gluten free rolled oats
1 cup almonds, chopped
⅓ cup pumpkin seeds
3 tbsp Suncore Foods® Hemp Seeds
½ tsp fine sea salt
⅓ cup melted coconut oil
½ cup pure maple syrup
¼ cup creamy almond butter
1 tsp vanilla bean extract
⅓ cup dried cranberries
Directions
1. Preheat oven to 180 degrees Celsius. Line baking sheet with parchment paper.
2. In a large bowl, mix together oats, salt, almonds, pumpkin seeds, and salt.
3. In a small bowl, mix together coconut oil, maple syrup, almond butter, and vanilla. Pour the wet ingredients over the dry and stir until all the dry ingredients are coated. Press mixture onto lined parchment paper, spread into a flat layer. Sprinkle the top with Suncore Foods® Hemp Seeds.
4. Bake for 25-30 minutes or until golden brown. Remove from the oven and toss in the dried cranberries while the granola is still warm.
5. Let cool completely before breaking apart (The granola will dry out and crisp up while it cools) Store in an airtight container on the counter.
---