Pink Pitaya Strawberry Flower Tart
Strawberry purée, coconut cream, soy milk & more in a crisp pastry crust, this flavor combo has got us saying ohh la la! This Pink Pitaya Strawberry Flower Tart is the perfect way to get your pink on The tart-tally amazing summer loving flavors will dance on your tongue!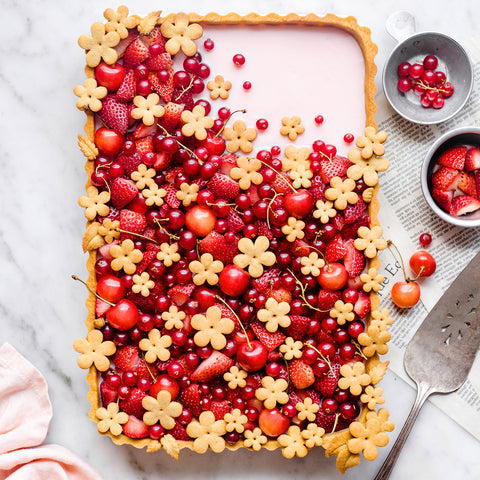 Ingredients
Crust (12"x 8" tart pan):
3 cups whole wheat flour 
1/3 cup almond meal 
3/4 cup powdered sugar 
200g cold vegan butter 
3-4 tbsp cold almond milk 
Pinch of salt 

Filling: 
2 cups fresh strawberries 
2 canned coconut milk (solid cream) 
1/3 cup maple syrup 
3/4 cup unsweetened soy milk 
2 tbsp cornstarch 
1 tsp vanilla bean extract 
2 tsp agar agar powder 
2 tsp Suncore Foods® Pink Pitaya Powder dissolve in 2 tsp water
Directions
1. Crust — Preheat oven to 180c. Grease a 12"x 8" tart pan. In a food processor, add flour, almond meal, powdered sugar, salt, pulse until combined. Then slowly add the butter, pulsing until you get a coarse meal. Add cold milk and pulse until a dough ball forms. Roll dough into a rectangular shape, then place gently into tart pan. Decorative top and edge in desired pattern with the remaining dough with flower shaped cookie cutters. Bake for 15-18 minutes until crust is golden brown.
2. Filling — Add strawberries in a blender. Blend into a puree. Add soy milk and blend it again. Strain strawberry puree and soy milk mixture through a mesh sieve. Place coconut cream in a saucepan and bring to a boil. Then add in agar and cornstarch, whisk until agar is completely dissolved. Stirring constantly. Whisk in strawberry milk mixture, maple syrup, vanilla and Suncore Foods® Pink Pitaya Powder. Let it simmer for 2 minutes. Turn off the heat. Strain the mixture through a mesh sieve and allow mixture to cool to room temperature. Gently pouring into the cooled tart. Place tart in the fridge for 2 hours to set. Remove tart from the tart tin and garnish with strawberries. 
---