Passion Fruit Toasted Coconut Chips Mango Yogurt Cake
Adventure awaits! No need to wait for that next big beach vacation when you have this Tropical Passion Fruit Toasted Coconut Mango Yogurt Cake! Topped with our Suncore Foods® Marigold Passion Fruit Powder & Seeds, we are getting major tropical vibes from this Mango Yogurt Cake with Passion Fruit Glaze! Also incorporating our Suncore Foods® Sparkly Amber Passion Fruit Flakes, made a dazzling cake reminiscent of that relaxing day on the beach! Transport yourself to that next tropical island and go on your next adventure by finding the recipe on our website to make this tasty treat!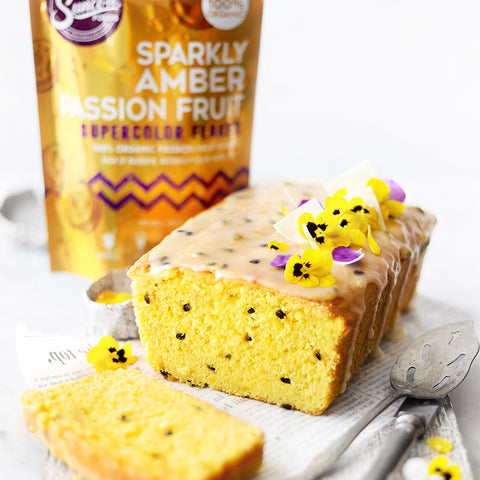 Directions
1. Preheat oven to 170 celsius. Grease a 1 pound loaf pan (8.5 x 4.5 x 2.75 inch) and set aside.

2. Sift flour. Add sugar, baking powder, baking soda, salt and mix well. Set aside.

3. In a stand mixer, add the soften butter and sugar and mix on low speed for about 1 minute. Add in mango purée, room temperature yogurt, milk, vanilla and mix until smooth.

4. Add in dry ingredients, scraping the bottom and sides of the bowl with a silicone spatula as needed. Mix on low until smooth. Transfer batter into a greased loaf pan. Bake for 55 minutes to 1 hour or until a butter knife through the center and comes out clean.

5. Let the cake cool completely in the pan, then turn the cake out onto a plate.

6. Combine glaze ingredients and whisk until smooth. Pour it over the cake and serve.
---