Mermaid Rainbow Sushi
The rainbow has never tasted as fresh as this brightly colored veggie sushi made using Suncore Foods® Powders! Adding some extra color to your food is a surefire way to bring a little more magic to your everyday; and now, you can start do it with your sushi. It's as beautiful as it is delicious with the gorgeous array of colors and as a bonus, these Mermaid Rainbow Sushi are vegan, as well! This is one meal your whole family will agree on!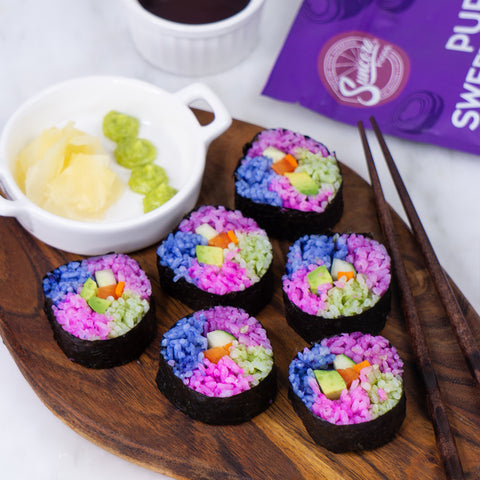 Directions
1. Cook sushi rice according to directions. Once cooked, add rice vinegar and salt.
2. Separate 4 equal parts of rice into bowls and add superfoods to rice. Stir well.
3. Cut veggies into strips.
4. Layout nori sheets, add rice and veggies, and roll up into sushi roll.
5. Cut into sushi pieces. Serve with soy sauce, ginger, and wasabi and enjoy!
---