Matcha Pandan Milk Bread
One bite of this bread will not be enough to satisfy your taste buds. Spectacularly golden and shiny on the outside, rich with flavor and delicious aroma on the inside, this pillowy-soft bread will make you hopelessly addictive with endless love. Beautiful cotton-like, soft, and pull-apart Matcha Pandan Milk Bread is wonderfully tender and visually striking color load made with the perfect partnering subtle vanilla sweetness of Suncore Foods® Emerald Pandan Leaf & earthy green tea flavor of Suncore Foods® Midori Jade Matcha Powders to give both its gorgeous color and delicious flavor. Whether you like it slathered with jam & butter, or as a base for your favorite sandwich, you'll have plenty of time to enjoy it, because the bread stays soft and pillowy for several days . Enjoy one loaf for yourself and bake another to have again – it is the ultimate experience for this weekend.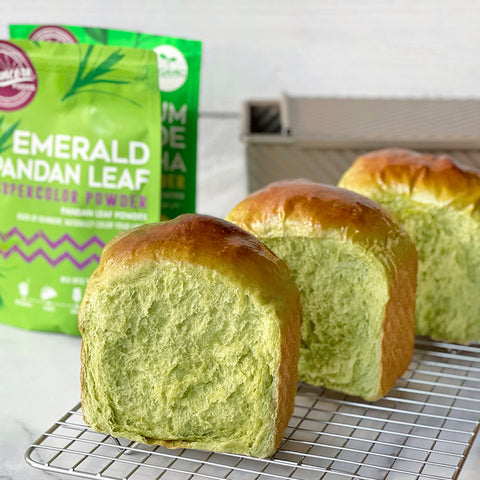 Directions
1. Create tangzhong by combining 20g flour and 100g water in a small saucepan over low heat. Stir constantly until it quickly becomes a paste. Remove from heat, cover, and set aside.

2. Using a stand mixing bowl, combine bread flour, sugar, and yeast, and give it a quick mix using a rubber spatula. Add in salt, dry milk powder, dissolved Suncore Foods® Emerald Pandan Leaf Powder & Suncore Foods® Midori Jade Matcha Powder mixture, warm coconut milk, and tangzhong. Attach to stand mixer, and knead on med-low using the hook attachment. Once dry flour is no longer visible, add in softened butter, and knead on med-high for 8 minutes. Let it rest for 10 mins covered, then transfer dough to a clean bowl and cover. Dough will be very sticky, resist the urge to add extra flour. Let it rise for 1 hour or until it doubles in size.

3. Punch and degas dough, and split into 3. Form into balls, cover, and let them rest for 15 minutes. Using a rolling pin, roll each dough maintaining an oblong shape. Fold top and bottom sides to the center, turn dough 90°, then roll top side in until it meets the bottom. Cinch the edge to prevent it from unrolling.

4. Place doughs in a greased pullman's loaf pan (8.5inX4.75in). Cover with lid or cling wrap and let rise for 30 mins-1 hour, or until it doubles in size. Preheat oven to 355° (180°C).

5. Create egg wash by mixing leftover egg and milk together in a small ramekin. Brush over dough and bake for 25 minutes, or until golden brown. Apply butter (optional). Let it cool in pan for 10-15 mins, then transfer to cooling rack. Pull bread apart and ENJOY!
---