Cerise Prickly Pear & Canary Yellow Safflower Flower Cookies
These too cute to resist Cerise Prickly Pear and Canary Yellow Safflower Flower Cookies are the perfect gift and wonderful to adorn tables at tea parties, bridal showers, or baby showers. They also make a great any day fun activity of decorating with colorful icing made using Suncore Foods® Powders - Cerise Prickly Pear, Red Beet, and Yellow Goldenberry. Try to just eat one of these delicious and adorable cookies with a delectably crumbly texture and hint of vanilla. Plus they're vegan too!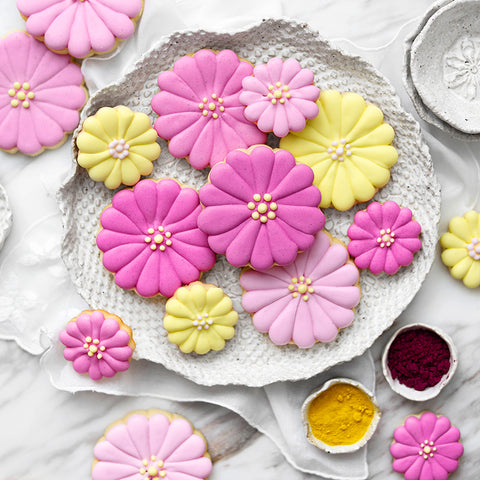 Directions
1. Flower Cookies — In a large bowl, mix flour, almond flour, powered sugar, salt and butter until combined. Add milk and almond extract. Mix until the dough comes together. Wrap cookie dough with cling wrap and refrigerate for 20 mins. Preheat oven to 170c. Roll dough out onto a piece of parchment paper and cut out the dough using a cookie cutter. Bake cookies for 10 mins. Allow cookies to cool completely.

2. Make the Icing — In a stand mixer, beat aquafaba with cream of tartar and salt until foamy. Add all powdered sugar and beat on low speed until thick. Beat in Suncore Foods® Powders and beat until thickened. Thin the icing with water to the desired consistency.
---